Are you eager to show the world your abilities in a thrilling tournament? After running multiple tests, the long-awaited PvP event –Hero League will finally be online on July 24th in League of Angels III's latest version V2.0.0. To defeat your rivals, win special titles and tons of rewards, here are five things you need to know before the Hero League officially opens.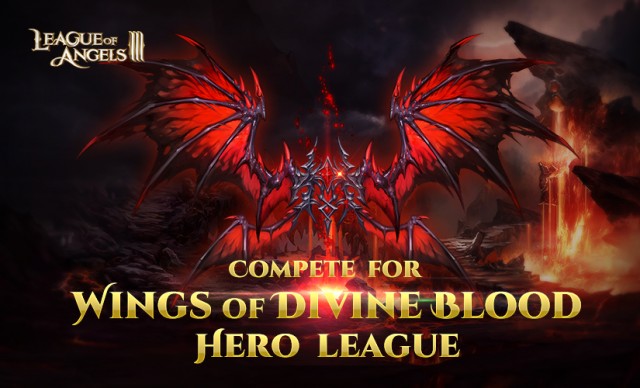 *PIC Wings of Divine Blood*
I World Level
The Grace Continent is in need of brave warriors! The Hero League icon will be shown when the World Level of the server reaches level 90 after the update completes on July 24th. All Lvl. 85+ players with a Battle Rating of over 80,000 will be able to join the grand event. You can check out the World Level below the stamina bar.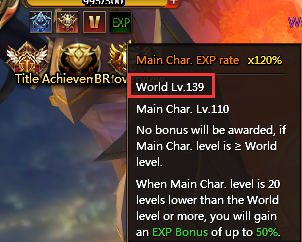 *PIC World Level*
II Different Divisions
Battle Rating matters a lot in Hero League! Before the seven-day Qualifiers start, all qualified players will be distributed into four different divisions based on their battle rating, i.e. Division 1 Hero League, Division 2 Hero League, Division 3 Hero League, and Ultimate Hero League. Players with the highest battle rating will be distributed to Ultimate Hero League, where better rewards are granted. You'd better act fast and craft your equipment and advance your heroes and Divine Armas to sharply increase your battle rating!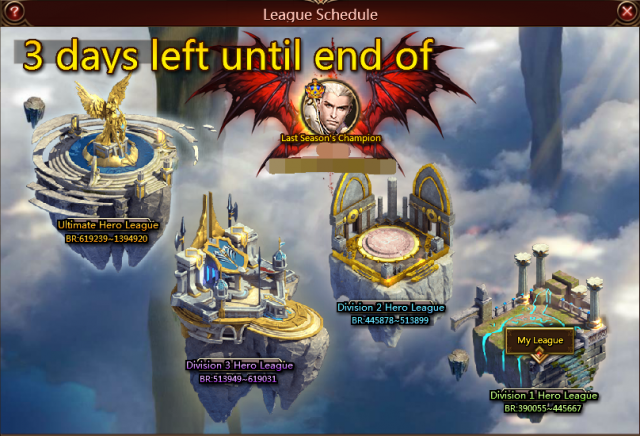 *PIC Divisions*
III Time-limited Wings
The Wings of Divine Blood is no ordinary wings. The lurid, crimson glow of the jewel in the middle of the wings manifests its value. With immense Battle Rating increased, the Wings of Divine Blood also adds much more attributes than the other advanced wings do. Only the grand Hero League champion will be able to unlock the gorgeous wings and keep it for 14 days (after which it will vanish). No one can keep the Wings of Divine Blood permanently, as it favors only the grand champion of each season.
Apart from the time-limited wings, the grand champion will also receive a special title, DPS Hero Chests and items including Elite Wing Adv. Stone, Recruitment Scroll II and Lvl. 4 Gem Chest. Plus, he'll have an exclusive statue built of him in Everlast. Play hard and win big!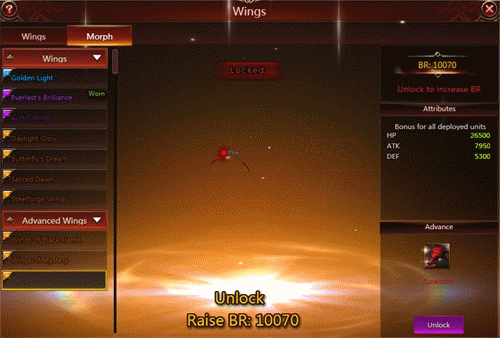 *GIF Wings of Divine Blood*
IV Tons of Rewards
Tons of rewards await you! All participants will be able to claim their rewards after the Championship ends, even if they haven't made it to the Round of 16. The grand champion, third-place, and runner-up players of Hero League are the top three players from the Ultimate Hero League and will obtain a special title respectively as well as various resources. Recruitment Scroll II and Wing Adv Stone are ready for the champion of each division. All unclaimed rewards will be sent via in-game mail after the event ends. Fight for glory and win amazing rewards, noble warriors!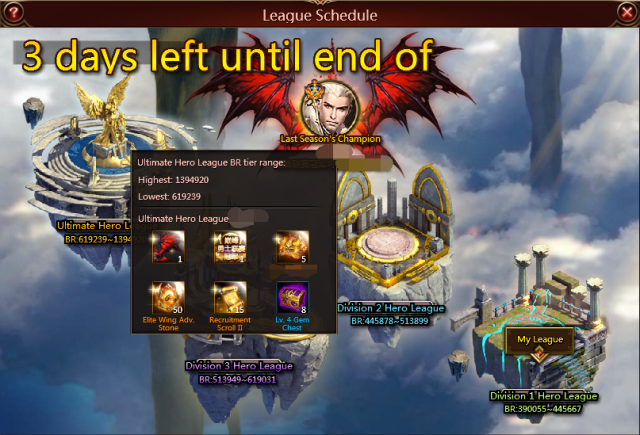 *PIC League Schedule*
V Regular Schedule
A season of Hero League lasts for 14 days and consists of three stages: Qualifiers, Championship and Off-season. After a fierce 7-day Qualifiers and 4-day Championship, players will have a 3-day Off-season to get fueled for the next season. Once the Off-season ends, the next season starts automatically. Keep an eye on the schedule!
Check out the League Schedule for the first season below.
Qualifiers: July 24th to July 30th
Championship: July 31st to August 3rd
Off-season: August 4th to August 6th
Please note that final update will be determined in game.
The first season of Hero League will be online on July 24th after the update completes. You'd better act fast to increase your battle rating in order to get into an advanced division and win better rewards! Go and prepare for this ultimate test of power and will by playing League of Angels III now!