The X-server event Angel's Treasure will be available from Jan 17th to Jan 19th. By using the Angel's Treasure Lottery Ticket (Abbreviated as "AT's Lottery Ticket") and spinning the wheel, you have the chance to get Wings of Ascension as the Theme Reward and other various items as Normal Rewards.
Continue read for more details.
Event Time: Jan 17th to Jan 19th (server time)
Server: X-Server
Entry: Click "Angel's Treasure" icon in game interface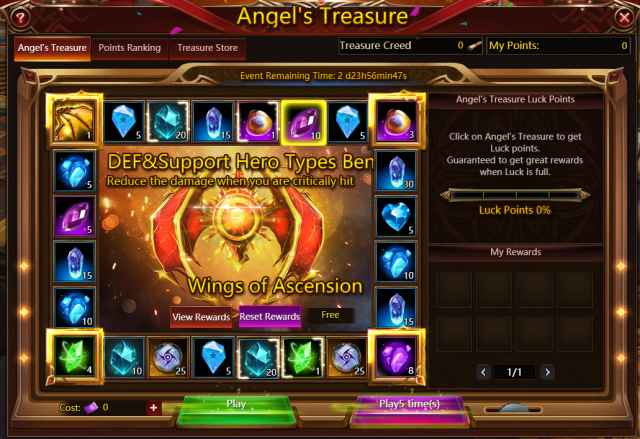 Event rules
1. Claim ONE AT's Lottery Ticket for FREE every day. Daily limits will be reset at 12 A.M. every day. Also, you can use Diamonds or Topaz to buy it.
2. The first 5 times guarantee Theme Rewards, i.e. Wings of Ascension Random Chest.
3. The wheel has to be stopped manually (a slight delay will appear after tapping). You will get the indicated reward when wheel stops.
4. Each attempt grants 10 Treasure Creeds, you can use them to buy different items in the Treasure Store.
5. Treasure Creeds will be cleared when event ended.
Rewards Description
1. Theme Rewards are placed in the four corners of the pool as usual. You can claim the remaining rewards after all the Theme Rewards have been collected.
2. Each attempt will grant points: 5 points for Normal Rewards and 20 points for Theme Rewards.
3. Each attempt will grant 25% Luck Points. 100% Luck Points guarantee Theme Rewards.
4. You can get Extra 20 points when you empty the prize pool.
5. You can be ranked when earning more than 300 points and win Super Prize with more than 2000.
6. Points will be cleared after the event and the reward will be sent by email when event ends.
Improvements
1. Obtained Rewards will be obviously displayed before being added into My Rewards collection;
2. New animation effect for Lucky Points which shows percentage changes.
3. Treasure Creed and My Points have simultaneous growth in this version.
4. Display all normal rewards in Reward Preview, so as Replacement Rewards.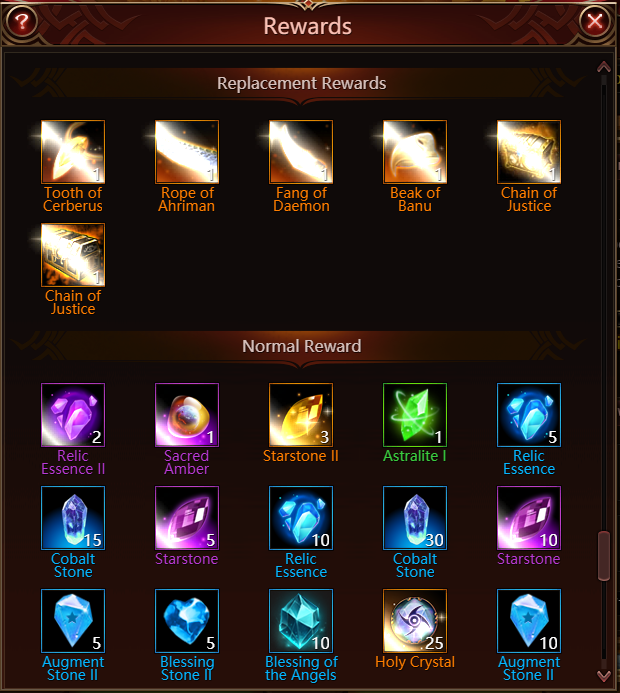 5. Topaz will be automatically consumed when buying AT's Lottery Tickets but lacking in Diamonds.
6. Added 2 shop taps to quick view items.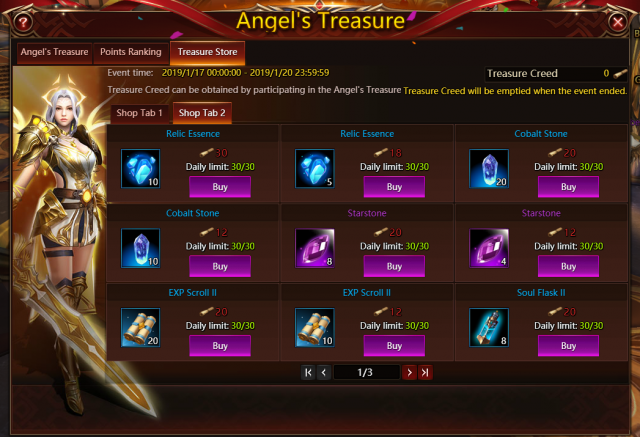 Wings of Ascension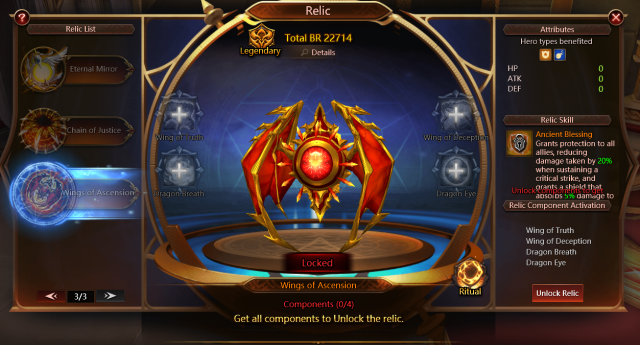 Wings of Ascension is a Legendary Relic, which is indispensable for Supports (i.e. Wendy) and DEF (i.e. Rei) heroes.
Wings of Ascension's history is mystical. Before Balerius went insane, he used his fire to make this gem and imbued it with the essence of time itself. Now he is long dead and nobody is quite certain why he made it.
You are able to unlock this Relic after collecting Wing of Truth, Dragon Breath, Wing of Deception and Dragon Eye together, which can be obtained in Angel's Treasure. It has one passive skill—Ancient Blessing: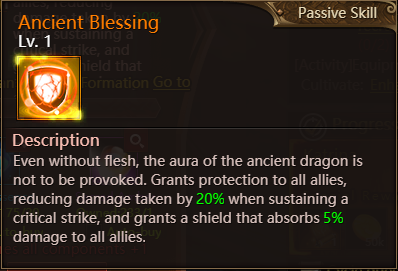 Angel's Treasure is an X-server event therefore you'd better get many points ASAP to get a higher rank and win Super Prizes! And don't forget to make the most use of your points in Treasure Store during the event!
Note:
Please note that the above content might be adjusted due to changes in the development plan. Final updates will be determined in-game.