League of Angels III, the free to play fantasy MMORPG from the publisher GTarcade has quickly amassed an international fan base since its global release in September 2018. After receiving Facebook's "Big Game Feature" from 9th to 15th in November, LoA3 has once again gained the great honor in December! As proof of its quality and worldwide visibility, League of Angels III is the first game to be featured twice by Facebook within just 2 months!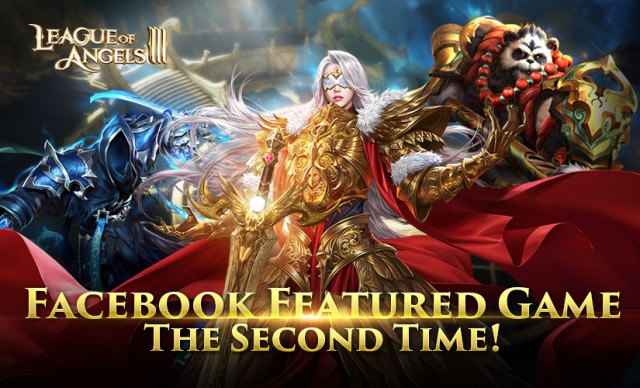 Why chose LoA3 again?
Designed to break the limits of traditional browser games, LoA3 brings stunning 3D visuals, rich and immersive stories, a satisfying progression system, and mesmerizing sound effects combine together to create an epic adventure. Fans from Germany, France, Spain, Portugal, Turkey, Poland, and Italy will also be able to enter the game and play in their own languages. LoA3 is continuously updated with interesting in-game events as well as new and innovative game features.
In collaboration with Unity, Facebook has built a dedicated, downloadable desktop gaming platform for developer across the world. Being chosen as "Facebook Featured Game of the Week" shows recognition for the great work that has been put in by developer Yoozoo Games and the publishing platform GTarcade. Our developers and operations team were inspired by building a channel for gamers around the world to continue enjoying League of Angels while building connections with other players and breaking the boundaries between nationalities.
Never-Ending Content
League of Angels III would not have earned Facebook's Game Feature twice in such a short time without our players' loyalty. All Players will find plenty of rewarding events to enjoy during the festive season. Christmas is around the corner and League of Angels II is celebrating with in-game decoration around its cities and costumes for its characters. The rare Winter Sleigh now can be permanently owned through Wheel of Fortune and the new hero Isolde, the Empress of Ice, has been added to the game. Angel's Treasure will be optimized and an Angel's Fortune event will be added this month as well. A brand new game mode Castle Raiders, as well as enhancements to empower hero skills, have been updated recently. More events and updates will be coming soon, so make sure you keep up-to-date!
Come experience a game the newly-featured League of Angels III and celebrate Christmas and New Year with us through great events and rewards. Over 5million players are already on the journey, now it's your turn to start Soaring with Angels, Turning the Tide!