Salutations warriors! League of Angels III is excited to introduce a new mount – Parade Turkey. As a creature most sacred to the people on the Grace Continent, Parade Turkey will grant a sharp increase in the battle rating, not to mention his enviable feathers and imposing appearance. From November 28th to November 30th, the legendary mount will be available in Wheel of Fortune where all players will have a chance to obtain his sigil (for both permanently and 10 days). Take on the stunning mount and triumph over your enemies!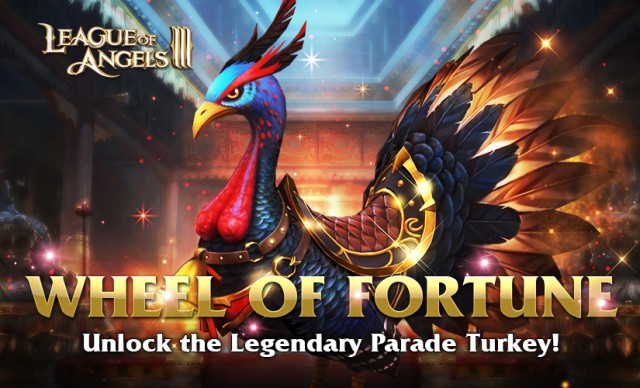 PIC: New Mount Parade Turkey
The Parade Turkey is the animal most sacred to people across the Grace Continent. With the magnificent feathers floating lightly in the air, the imposing turkey presents an admirable and stunning side of him. The enemies' hesitation to confront him can't escape the acuteness of Parade Turkey. As an advanced mount, Parade Turkey is a legendary mount that grants a sharp rise in battle rating of your heroes while adding immense bonus HP, ATK and DEF.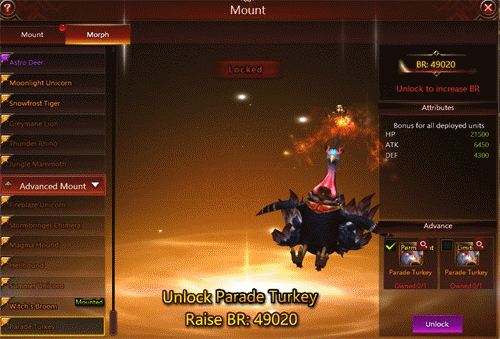 GIF Parade Turkey
Are you looking forward to adding this fabulous creature to your collection? Parade Turkey will be available in Wheel of Fortune from November 28th to November 30th. Spin the wheel and you'll have a chance to obtain the sigil (both permanent and 10-day) to unlock the Parade Turkey! In addition, the Epic Gem Scroll that is used to combine level 6 gems is also available during the event. Don't miss them out!
Play League of Angels III now and unlock the Parade Turkey to tour around the Grace Continent!