League of Angels III, the third and latest 3D MMORPG from Gtarcade, has just released a new PvE feature "Mystic Domain" and a new system "Divine Arma Empower". The Mystic Domain consists of twelve different domains that are guarded by the twelve Divine Guardians and contains mysterious chests and rare materials! All players level 100 and above will be able to enter the mystic domain to challenge the Divine Guardians successively to obtain the essential Divine Arma Empower materials. Are you ready to venture out to the Grace Continent to embark on the epic journey?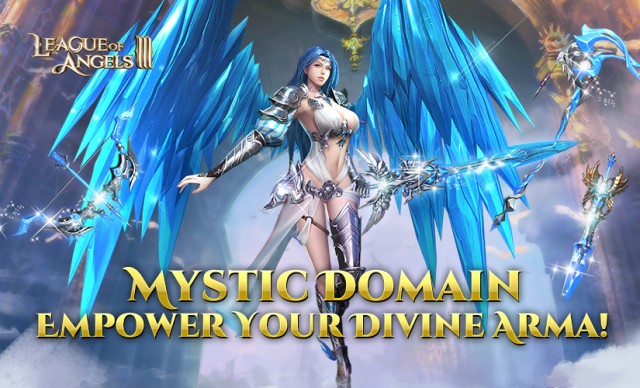 *PIC Mystic Domain*
>>Clear Stages for Divine Arma Empower Resources
Players who have reached level 100 and above can click Mystic Domain icon next to Tree of Origin in the game interface to enter this new PvE mode. The mode includes 12 domains that are guarded by the twelve Divine Guardians, and the first four domains are available in the update. Each domain consists of three stages: Reward Stage, Challenge Stage and Arma Backstory (coming soon). The Reward Stage can be accessed only after the certain Divine Arma is unlocked and can be challenged only once. Players have to clear the first three levels of the previous domain to unlock the Challenge Stage of the next domain.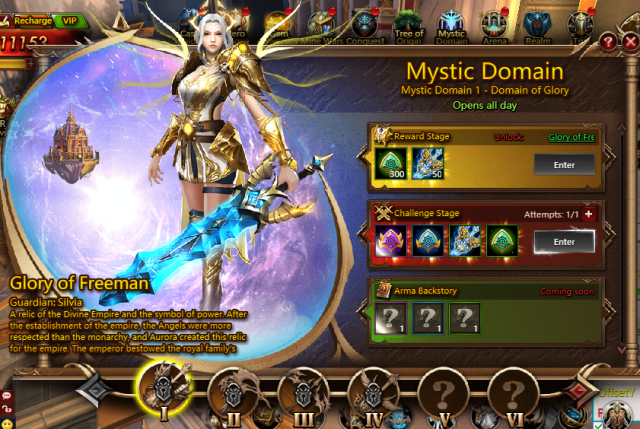 *PIC Mystic Domain Interface*
Players are granted 1 FREE challenge attempts per day in Challenge Stage. Enemies from each domain, in one form or another, are the guards leaded by the Divine Guardian and have their own specialties which require strategy. For example, the back row guards from Domain of Glory deal large amounts of damage. Additionally, the main character is able to increase their stats by 50% if they are equipped the required Divine Arma in the Challenge Stage. Check the strategy and arrange the formation to faster clear the Challenge Stage.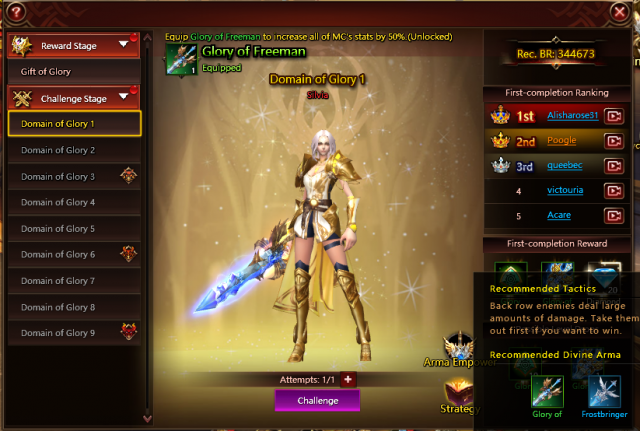 *PIC Domain of Glory*
>> Great Rewards Await You
Players will earn different crystals and Divine Arma sigils after clearing the stages. Every three level in the Challenge Stage grants a mystery chest which can be opened by collecting the points after enhancing the Divine Arma to the required level.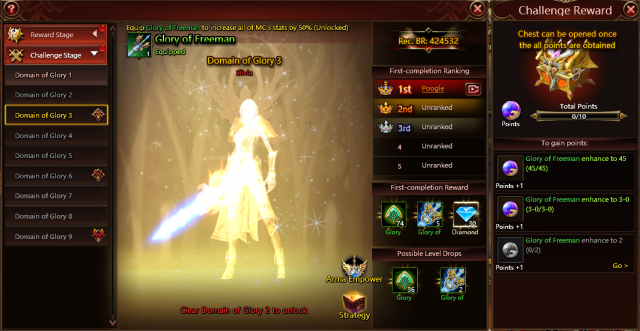 *PIC Challenge Reward*
>> Unleash the power of Divine Arma
Divine Arma Empower is the latest system which enables players another way to add extra stats to polish their Divine Armas in League of Angels III. Each Divine Arma requires three kinds of crystals and its sigil to get empowered and gain a great many stats. Defeat the Divine Guardians in different stages, open mysterious chests, empower your Divine Armas and watch your Battle Rating soar!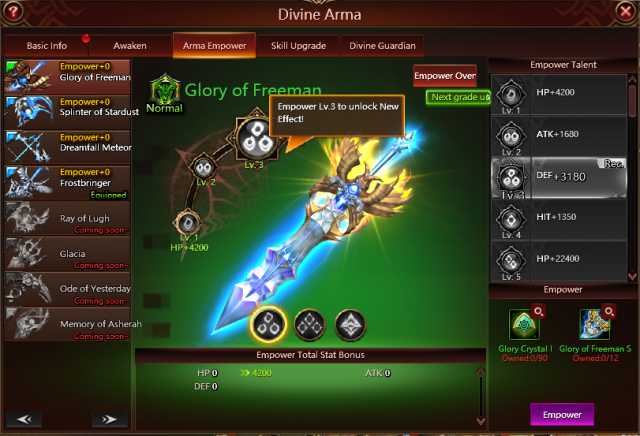 *PIC Divine Arma Empower*
Play League of Angels III now and stay tuned for more amazing content to come!