From the single-server Hero League and Guild War to Castle Raiders and Wailing Gate, League of Angels III has been expanding features nonstop. Shortly after the global release, League of Angels III has managed to tear the server boundaries apart and present the first X-server Hero League to players all around the world! After rounds and rounds of tests during the summer festival, the most eagerly anticipated X-server event will finally open on October 1st in League of Angels III's latest version V3.3.0. Get ready to face off tough rivals from all servers!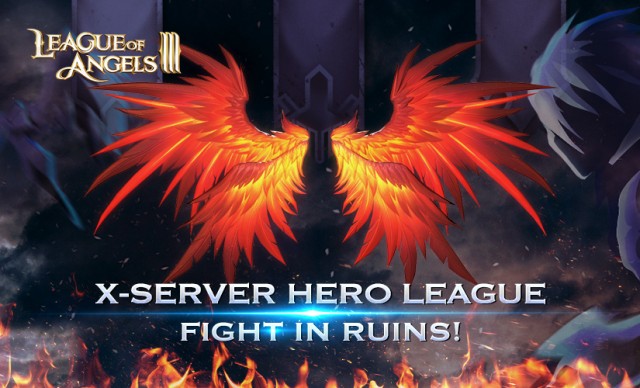 *PIC X-server Hero League*
All Lvl. 90+ players with a Battle Rating over 400,000 will be able to join the X-server Hero League. Show them the true warrior of the Grace Continent and reap the prizes that the winners deserve.
Wings of Volcanus
Fire the tournament with real passion! The Wings of Volcanus, which favors only the grand champion of X-server Hero League, is born to break record. Like a phoenix rising from ashes, Wings of Volcanus is ready to unleash its power like a violent volcano eruption to revenge the enemies. Players will not only watch their battle rating soar by unlocking the Wings of Volcanus, but also gain a lot more bonus attributes than from the other advanced wings. The grand champion of each season can only keep the gorgeous wings for 14days (after which it will vanish) after unlocking it. Keep increasing your battle rating as the defending champion if you want to possess the wings permanently, as your rivals might catch up when you let down your guard.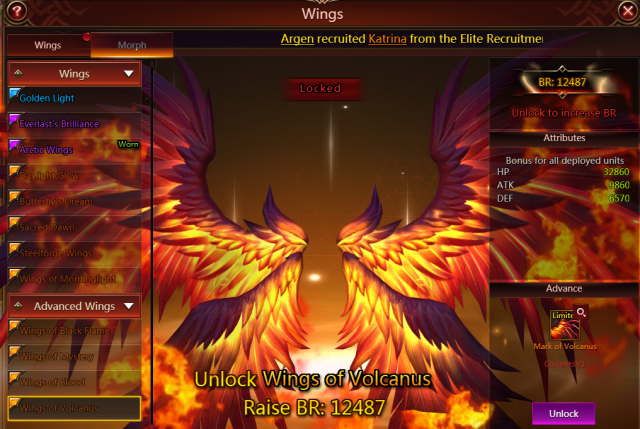 *PIC Wings of Volcanus*
Creation Equipment
The time has ended when players can only purchase materials in the VIP Store for the Creation Equipment. The champion, runner up and third place from Division 3 and the ultimate division will be able to obtain chests which contain sketches and shards for players to craft the Creation Equipment.
From Legendary to Mythic, take a leap in battle rating by arming your heroes with the Creation Equipment. Bonus attributes are granted even if your heroes wear only 2 or 3 pieces of Mythic equipment. Thanks to the Equipment Bond system, you'll be able to activate the bonus attributes with 3 pieces of legendary equipment and just 1 piece of Mythic equipment. Go grab a set of mythic equipment for your heroes!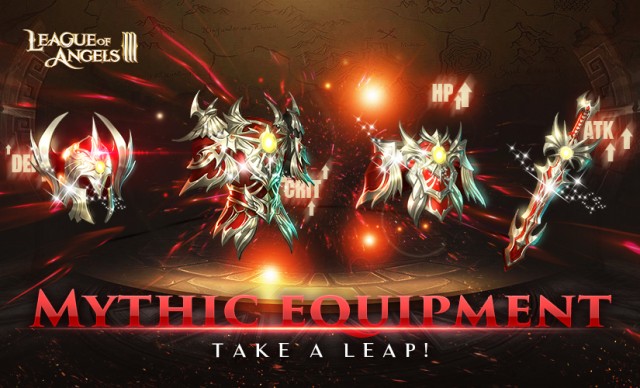 *PIC Creation Equipment*
A Statue and Tons of Resources
Play hard and win big! Just like single-server Hero League, the grand champion of X-server Hero League will also have an exclusive statue built of them in Everlast! Apart from the statue, the grand champion will also receive a special title, Lvl.6 Exclusive Gem Chest and Recruitment Scroll II.
All participants will be able to claim their rewards after the Championship ends, even if they haven't made it to the Round of 16. The grand champion, third-place, and runner-up players of X-server Hero League are the top three players from the X-server Ultimate Elimination and will obtain a special title respectively as well as Creation Equipment and various resources. The top three from Division 3 will win Creation Equipment and Lvl.5 Gem Chests together with Recruitment Scroll II and Wing Adv Stone which are also prizes for top 16 of Division 1 and Division 2. All unclaimed rewards will be sent via in-game mail after the event ends. Manage to get into the advanced division to win better rewards, noble warriors!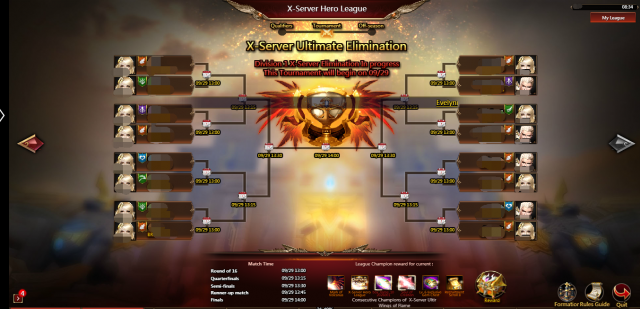 *PIC X-server Ultimate Elimination*
A season of X-server Hero League lasts for 14 days and consists of three stages: Qualifiers, Championship and Off-season, just like the single-server Hero League. After a fierce 7-day Qualifiers and 4-day Championship, players will enter Off-season and can get fueled for the next season. Please keep in mind that the FIRST DAY OF EACH MONTH announces the start of X-server Hero League.
Check out the X-server League Schedule for the first season below.
Qualifiers: October 1st to October 7th
Championship: October 8th to October 11th
Offseason: October 12th to October 14th
Please note that final update will be determined in game.
The first season of X-server Hero League will open on October 1st. You'd better act fast to increase your battle rating in order to get into an advanced division and win better rewards! Go and prepare for this ultimate test of power and will by playing League of Angels III now!