Fighting as a team is becoming increasingly important as more and more features are unlocked since League of Angels III's global release. Players can manage to clear certain stages if they seek for their friends' assistance in game regardless how hard the task may appear. Introducing the new feature—Invite, players can invite their friends to play and receive awesome rewards, and most importantly, team up to fight for the future of the Grace Continent! Check below for more details.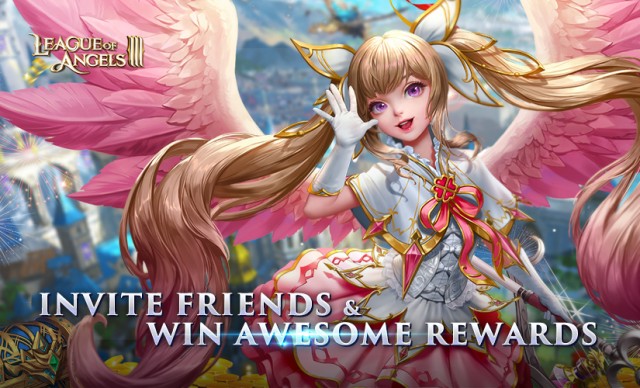 *PIC Invite Friends *
"Invite" is accessible from the Invite icon in the game interface during the first 7 days after the server opens, and it can always be found in Reward Hall. It is available to all players, and once your friends accept the invitation and reach the required level, both of you will be able to claim mystery chests which contain rare resources.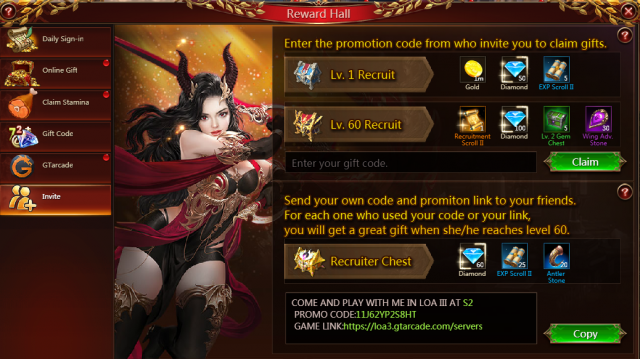 *PIC Reward Hall*
How to Invite Friends
All players from Facebook and Gtarcade have the chance to invite friends to play League of Angels III if they want to! An exclusive PROMO CODE is generated for each player in game. All you need to do is simply going to the Reward Hall, copying your code and link and then sharing them with your friends! The friend, who should enter the same server as you, will receive a Lvl. 1 Recruit Chest via in-game mail immediately they use the code that you share, and will get a Level 60 Recruit Chest after they reach level 60. Plus, a Recruiter Chest which contains Diamonds, EXP Scrolls and Antler Stone will be sent to you automatically every time an invitee reaches level 60. You can claim gifts by sharing your promo code for up to 20 times in your server.
The friend that you invite must enter the exact same server with you and use the code under level 60, in order to use the promo code properly. Share the code with your friends and claim rewards together!
How to Claim the Rewards
All the rewards will be sent via in-game mail once the requirements are met.
About the Chests
Lvl. 1 Recruit Chest: Can be used by the invitee after he enters the Recruiter's server.
Lvl. 60 Recruit Chest: Can be used by the invitee when he reaches level 60 in game.
Recruiter Chest: Can be used by the Recruiter after the friends that he invited reach level 60.
Team up with your friends, slay monsters and fight for glory! Play League of Angels III now and stay tuned for more great content to come!