Keep the summer vibe a little longer! Following the great expansion to guild features and new costume of the first week, the summer celebrity of the second week, the first legendary Divine Arma and a five-star legendary healer will be unveiled in the third week of the summer carnival. In addition, a brand new set of Creation Equipment will also be revealed with players being able to obtain the needed materials to craft in VIP store. Read on to snag the sneak peek.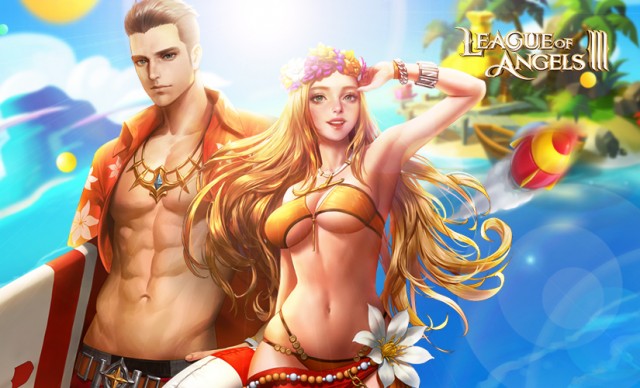 *PIC Summer Festival*
Mythic Equipment Unveiled
Introducing totally four sets of Mythic Equipment, which will not only significantly increase your battle rating, but also grants extra stats when appropriately equipped. Players can purchase the materials in different shops after Sep.19th, and you can also obtain them in the coming X-server Hero League. Take a leap!
Legendary Healer Debuts
Johanna, the mother of Theresa and Divine Guardian of Memory of Asherah, excels in healing her allies. As a five-star legendary hero, she can remove debuffs from her allies and recover their HP when casting her special skill "Galactic Guard". She will assist players level 48 and above with their main tasks, and will be available in Featured Hero from Sep. 20th to Sep. 24th. Don't miss her out!
Invite Friends and Win Awesome Rewards
Share the summer fun with your friends! Send out your exclusive invitation to your friends and you'll get a gift pack as long as one of your friends has used your code and reached level 60 in game. In the meanwhile, your friend will immediately receive a gift pack after using your gift code and receive another after reaching level 60. The feature will be available in the coming updates for the summer festival. So stay tuned!
Carnival Week Continues
Dress up Starry Summer and join us in the summer fun! From Sep. 19th to Sep. 25th, players will be able to obtain the mark of Starry Summer (both body and head) and possess it for 10 days. Go complete the tasks now!
In addition, X-server Hero League and a new PvE feature will be unveiled in the coming updates for the summer festival. So stay tuned! Follow us on our Facebook fan page or check out the in-game new panel from time to time for the latest news!
We hope all our players will enjoy the summer festival and stay tuned for more great content to come!