League of Angels III, the third and latest turn-based MMORPG from Gtarcade, has just released a new PvE feature "Castle Raiders" and a new system "Hero Empower". Now, it's time to challenge evil bosses and empower your heroes! All players level 85 and above will be able to enter the castle and battle for new resources! Read on to find out more on how to open the most Chapter Chests and obtain rare materials!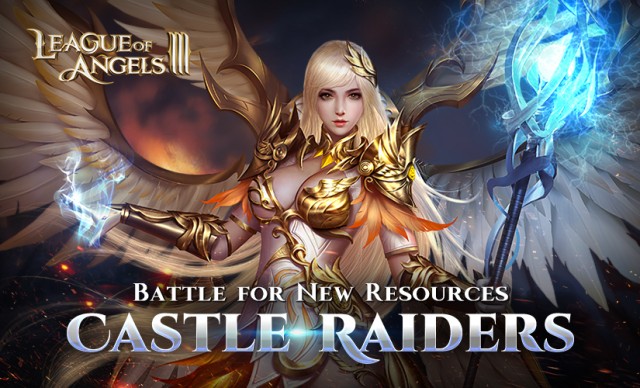 *PIC Castle Raiders*
>>Battle for Hero Empower Resources
Players who have reached level 85 and above can click Castle Raiders icon in the game interface to enter this new mode. The mode includes 4 stages of varying difficulty against randomly matched single-server opponents (based on B.R.) that are refreshed daily. Players must first select enemy in the first column to challenge. If the player cannot defeat the enemy, they can click on the "Request Assistance" button beside "Challenge" to ask for a friend's assistance (by using their squad to battle).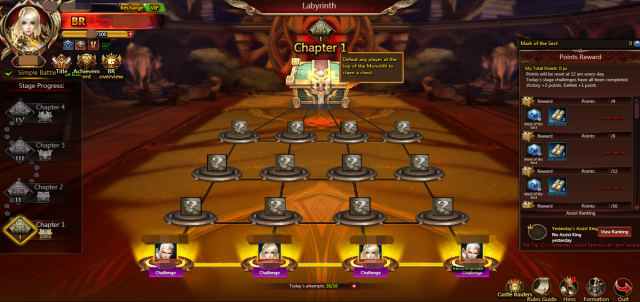 *PIC Castle Raiders Interface*
Players are granted 16 FREE challenge attempts per day. Once an opponent has been defeated, all opponent directly connected to them will be unlocked to challenge. Defeat any of the opponents in the last column to access the reward chest for that stage. Players can then move on to the next stage. If a player fails a challenge, the opponent will receive a debuff (reducing their ATK and DEF by 10%) and their HP will not recover from the last battle, so the battle will be easier.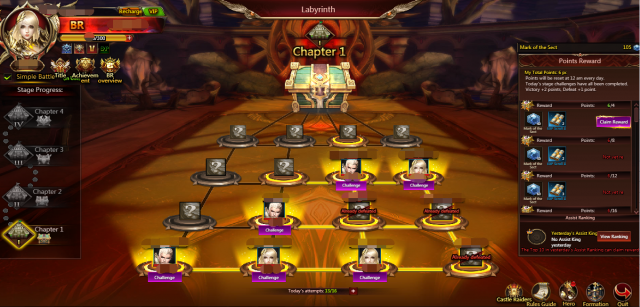 *PIC Challenging in Castle Raiders*
>>Great Rewards Await You
When players defeat an opponent in Castle Raiders, they will earn 2 points and Mark of the sect (a loss will only earn 1 point). Mark of the Sect is the exclusive token which can be used to buy Hero Empower materials in Castle Raiders Shop. Players can claim corresponding point rewards when reaching certain points.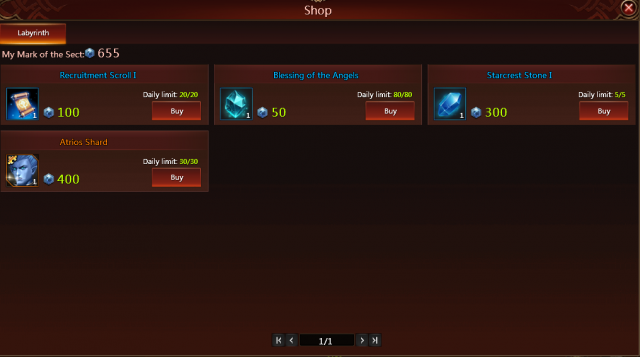 *PIC Castle Raiders Shop*
>>Assist Friends and Win Extra Rewards
Players can use the Assist feature to utlize the elite squad of their friends to defeat opponents. The top 10 players who have successfully assisted the most friends will be ranked on the Assist Rankings and earn extra rewards. Since assists are based on the number of friends that use your squad, you'd better make an elite squad of yours and lots of friends!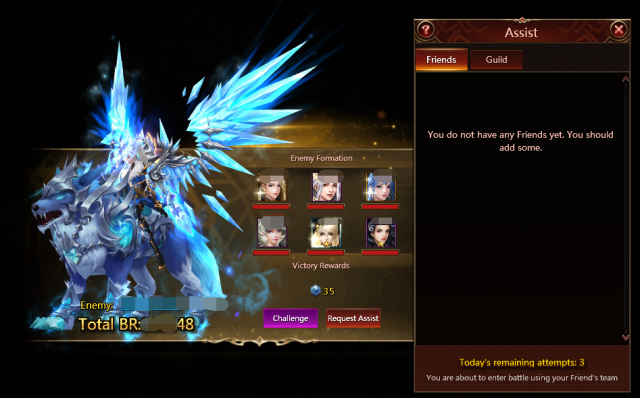 *PIC Castle Raiders Assistance*
Hero Empower is the latest system which enables players another way to train their heroes in League of Angels III. Find out the intricate windings of the labyrinth in Castle Raiders, open mysterious chests, empower your heroes and watch your Battle Rating soar!
We hope all players in League of Angels III will enjoy the new features and stay tuned for more amazing content to come!