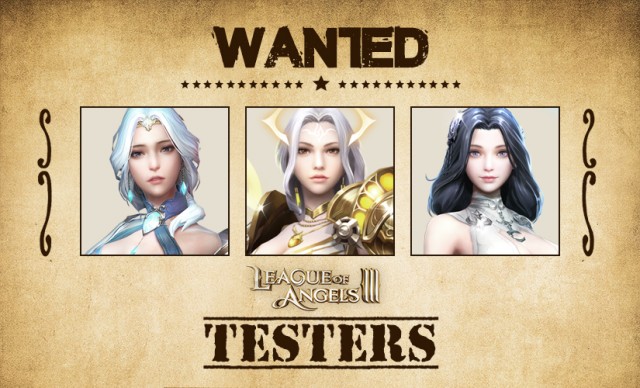 Testers Needed:
We are in need of game testers to join the League of Angels III test team! Your role as a tester will be to help us test new content and provide feedback and suggestions to make LoA3 a better game overall. After a test period has concluded, you will be given rewards for your time and assistance.
I Requirements:
1. Over the age of 18
2. Before July 10, have a level 90 or higher character on one of the following servers: S1-S8
3. Play LoA3 for at least 3 hours a day
4. Enjoy LoA3 and is familiar with its features and gameplay
5. Responsible and can express yourself clearly
II Responsibilities:
1. Test new content for LoA3 on the new S0 Test Server to improve the quality of game content before official release.
2. While testing, you should regularly report bugs and provide feedback and suggestions.
III Rewards:
Test Rewards: Diamond*500、Gold*1000、Spirit StoneⅡ*50、Bleesing StoneⅡ*5
Ultimate Hero League Qualifiers Top 16 Ranked Rewards: Diamond*300、Bleesing StoneⅡ*3、Soul FlaskⅡ*5、Wing Adv.Stone*40
Ultimate Hero League Championship Champion Rewards:Diamond*600、Bleesing StoneⅡ*10、Soul FlaskⅡ*20、Wing Adv.Stone*80
Extra Rewards: These rewards are based on the severity of the reported issue after evaluation and verification.
General issue:Diamond*100(within 5 )
Major issue:Diamond*150(within 3)
Urgent issue:Diamond*300(within 2)
Note:Rewards will be sent to your main server in 2 working days after testing has finished.
lV To apply, please answer the following questions completely:
1)What is your in-game character name and character level? *
2)What server are you currently on? *
3)What is your game account ?*

PIC: Find your Facebook account here.

PIC: Find your Gtarcade account here.
4)What is your real name (first and last)?
5)How old are you?
6)What languages do you speak?
7)In general, what times are you usually online? Please include your time-zone.
Send an email with your answers to: loa3@gtarcade.com.
V Note:
1. The S0 test server will be available on the official website soon. Players who have been selected as a tester should log in on the official website or LOA3 on facebook platform.
Official website:https://loa3.gtarcade.com
Facebook:https://apps.facebook.com/leagueofangelsiii
2. S0 will be closed once a testing period has concluded. As a tester, you can try new gameplay on S0 before anyone else at next test.
We look forward to having you as a tester!