UPDATES
Update: V4.0.0 Remade Guild War & the 1st Mythic Hero
Big update, right on time! In

version 4.0.0.

we remade the Guild War, added the first Mythic Hero -- Victoria and a series of improvements and adjustments. The servers will disconnect to carry out the update at around 22:35 on January 29th (EST). Sorry for any inconvenience this may cause. Please check below for more details.
Update Time: January 29th
New Version: V4.0.0
Estimated Update Time (server time):
- PST Servers: 19:35 January 29th
- EST Servers: 22:35 January 29th
- EU Servers: 04:35 January 30th
- HKT Servers: 11:35 January 30th




What's new
--Remade Guild War
i
.
The Guild must meet registration conditions before it can join a War.
ii.
Registration period: Only Guild Leaders and Deputy Leaders can register.
iii.
Preparation period: Qualifying guild members can join the battle and start deployments.
iv.
Battle period: Guilds on the same battlefield will fight until there is a winner.
v.
Off-season: players can only
check points
' rankings and battle reports.
i
.
During Guild Wars, players fight at different
stages,
and get points according to their wins and losses.
ii.
Players can get different points rewards depending on how many points they get each week.
iii.
Players can get different grades of rewards according to their point rankings within the guild each week.
iv. Player's points progress and reward claim state are reset at 12:00 A.M. every Sunday.
C. Please Note
1. Guild War will start at 16:00 every day (Server time);
2. Guild/Deputy leader needs to register 1 hour before the war starts if the Guild satisfies the requirement, or click the auto-register instead; Members can directly enter the war when the guild has registered;
3. 17:00-21:00 is the Preparation stage;
21:00-22:00 is for Battle Phase;
22:00-16:00 (Day 2) is Off-Season
>>Rewards in the Guild War will be upgraded continuously, so please tell us what kind of prize you want.


--New Temple
Nebula
--New Hero: The first Mythic Hero: Victoria
Mythic DEF Hero Victoria owns 3 skills: Dawn's light, Dusk Slash and Victory Dance. With these special skills, Victoria can cause group Taunt, single target damage and heal herself.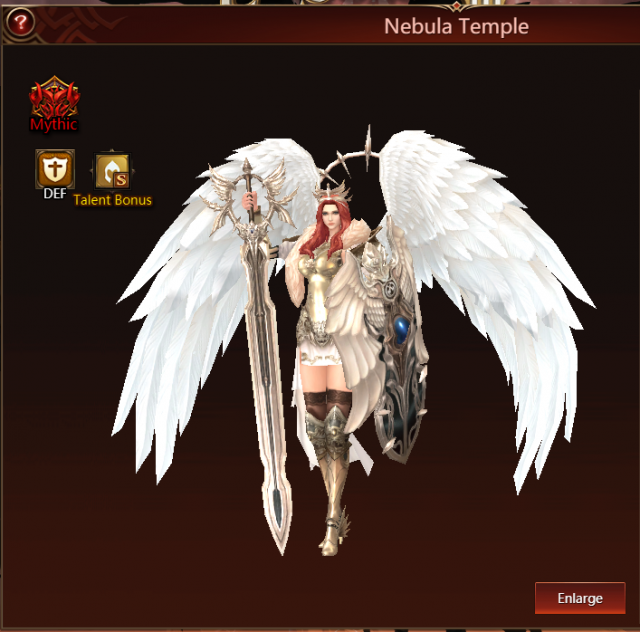 --New Mystic Domain
Add new Mystic Domain for Dragonbane, open on TUE, THU, SAT and SUN.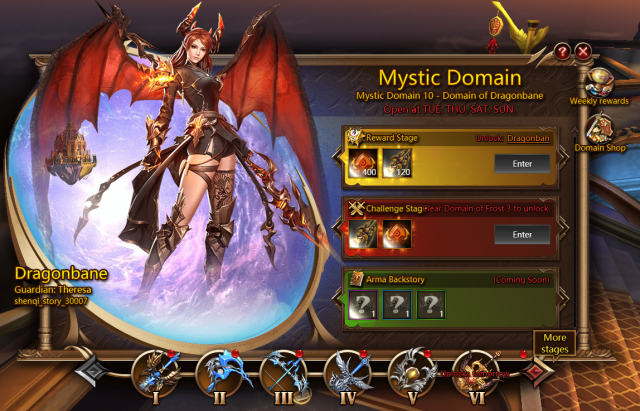 Adjustments
--Arma Aid
Lowered the unlock requirement for the first slot in Arma Aid. Now you only need to empower one Epic Arma to Grade 1 to unlock the slot. P.S. Drag Armas to the Aid slot can greatly increase your BR.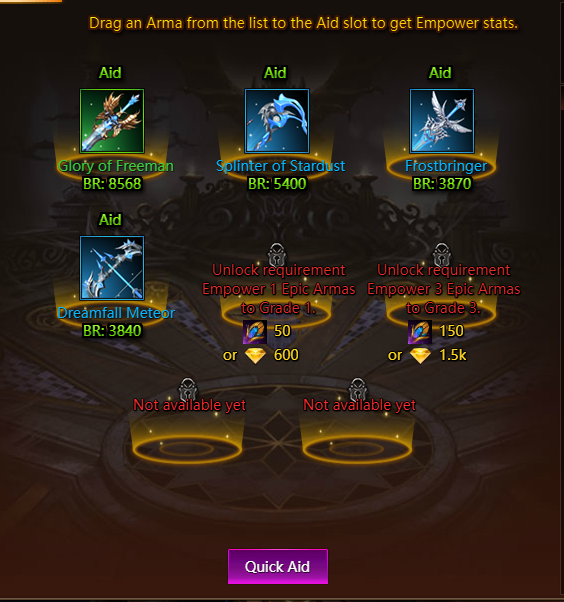 -- Divine Arma:Dragonbane
Changed Dragonbane's skill Conqueror of Justice's attacking range from rear row to the front.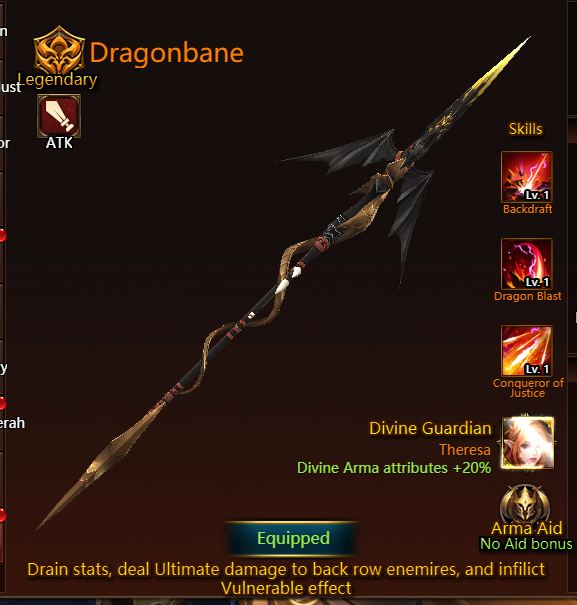 Improvements
--X-Server Hero League
i
.
Better rewards can be obtained from the server gift pack in
X-server
Hero League.
ii. Improved the matching rules in X-server Hero League.
--Conquest
Improved the matching rules in conquest. The rate of battle with same enemies has been highly reduced.
--Wings of Ascension
A
bug of advancing Wings of Ascension has been fixed, we will return the extra materials you have used for advancing this relic.
Performance
Added New year scene and elements.
Added Victoria as the Divine Guardian of new Arma Dawn Sword and Dusk Shield.
Note
Please
note
that the above content might be adjusted due to changes in the development plan. Final updates will be determined in-game.