UPDATES
Update V3.17.0 New Weekly Quest and Improvements
Dear players, League of Angels III update

V3.17.0

has added a new Weekly Quest section and made some adjustments. The servers will disconnect to carry out the update

at around 07:35
A.M.
January 8th (EST)

. Sorry for any inconvenience this may cause. Please check below for more details.
Update Time: January 8th
New Version: V3.17.0
Estimated Update Time (server time):
- PST Servers: 04:35 A.M. January 8th
- EST Servers: 07:35 A.M. January 8th
- EU Servers: 01:35 P.M. January 8th
- HKT Servers: 08:35 P.M. January 8th
--What's new?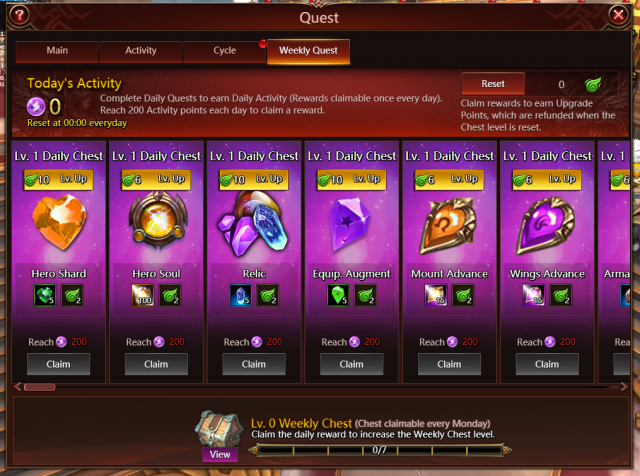 >>Daily Reward
Click the 'Quest' icon and choose 'Weekly Quest' menu.

When your daily activity points meet the requirement, you can claim Daily Reward which gives you the chance to get Upgrade point.

Upgrade point can level up the items in Daily Reward to a certain extent.

You can claim

daily

reward once a day.

Reward level can be reset manually every week and Upgrade point will be returned.
>>Weekly Chest
Claiming daily rewards for 7 days can activate the Weekly Chest which can be claimed on Monday.

Each claim of a daily reward can upgrade Weekly Chest by one level.

Each Chest level includes various rewards that can be viewed by clicking the view button.
2. Adjusted Activity Quests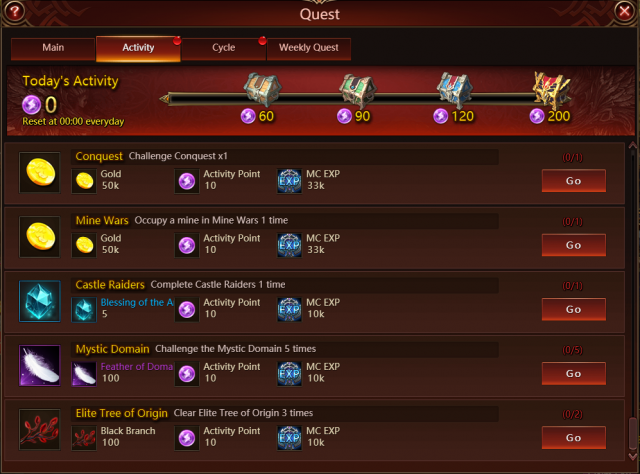 Added the rewards Black Branch and Feather of Domain.

Activity Quest progress has to be reset after the update, but don't worry, we will keep your Activity Points.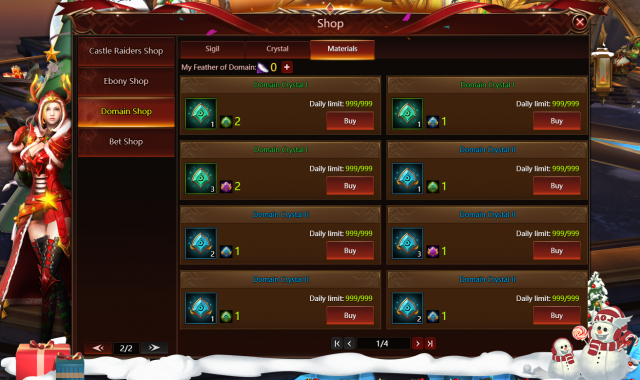 Simplified the materials for Arma Empower. New Empower materials are added to replace old ones in Mystic Domain and Arma Empower and are classified only by quality.

Old materials can be exchanged to the new ones via Store -- Domain shop -- Materials. The exchange rate is displayed in-shop.
--Need to note!
>>Hero League
All tournament schedules in Hero League will be cleared and the new one will recover on Jan 22nd.

Compensations will be sent every day from Jan 9th to Jan 21nd for players entered off-season.

New

tournament schedules will start on 22nd Jan.
>>Mount & Outfit
1.
Added new Mount—Night Falcon
2.
Added new Outfit—Silverfrost Armor
--Improvements:
1.
Added guidance for Castle Raiders and Mystic domain for new players.
2.
Added Isolde Shards in Shard Shop and Guild Aid.
Please note that the above content might be adjusted due to changes in the development plan. Final updates will be determined in-game.
RELATED