STRATEGY
Equipment Bond Q&A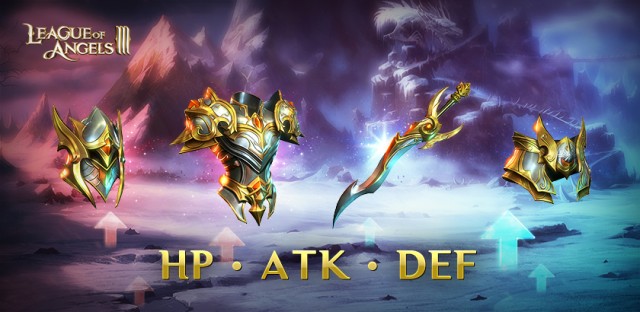 A set of legendary equipment is a must-have for your character and heroes, but it's not enough if you want to watch your battle rating soar. League of Angels III has a new feature which will enable players to bond their heroes with equipment to gain bonus stats! It will be available on September 18th in the coming update for summer carnival. Check out below for more details.
Q1: What are the requirements to activate the bond? Do I have to reach a certain level to unlock this feature?
A: There's no level requirement for this feature. All players who have equipped at least four pieces of equipment with LEGENDARY or better quality are able to activate the bond.
Q2: Is the bond bonus still activated after I alter my equipment or unequip them?
A: The status of the bond will change according to your altering of the equipment or unequipping them. If your altering equipment leads to a failure to meet the requirements, the bonus stats that have already been activated will become invalid.
Q3: How many bonus stats can I activate?
A: Similar to the Divine Arma Bond, a bond with establish with your hero or character.
Q4: Can I activate the bond if I have only 1 piece of mythic equipment (coming soon) while 3 pieces of legendary equipment?
A: Yes, you can.
Q5: Where can I check the bond between my hero and equipment?
A: You can check it on the interface of Hero Basic Info, Formation, Bond Tips and Hero Tips.
Q6: How do I know that I've successfully activated the bond between my hero and equipment?
A: It will turn green if the bond is activated, otherwise it's grey.
The bond between heroes and equipment provides another way for players to increase their battle rating and will surely enrich the equipment system! We hope all players will enjoy the summer carnival in League of Angels III and stay tuned for more great content to come!