NEWS
Join Us as a Moderator!
Apply now; We need moderators to join the League of Angels III moderation team!
As a Moderator, you will be more than just a gamer; you will become respected figure of the gaming community. You will also help support your fellow gamers to improve their gaming experience.
We're looking for new, highly motivated individuals to improve the overall quality of playing GTarcade games.
This is a great opportunity to earn in-game currency as your wage!

We are looking for moderators that want to help us in creating and maintaining an amazing community for LoA III on Discord, Facebook and Forum. All moderators need to be fluent in written and spoken English but, we have a multilingual player base and if you are fluent in other languages that is an added bonus!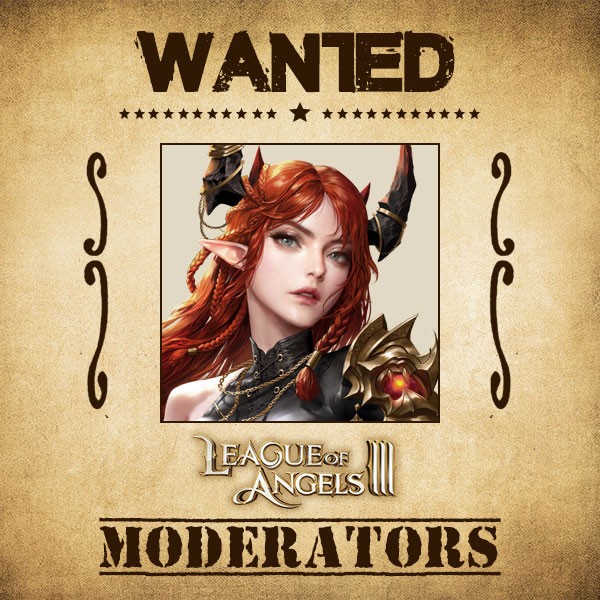 Your profile
- You are over the age of 18
- You want to learn in order to be able to provide tips to other players an lend a helping hand
- You like playing the role of moderator and you are diplomatic and fair
- You are an expert when it comes to game communication systems such as Skype, Discord, etc.
- You're online at least once a day
- You are fluent in both written and spoken English
- You are professional and resilient to critique and can separate your private gaming experience from your role as a moderator
- You are a team-oriented individual who puts an emphasis on loyalty and exercises complete discretion
Past experience as a moderator in other forums or chats is an added bonus, but is not a requirement. We're a friendly and well-organized team which greets newcomers with open arms and we are very excited to start our moderator journey with LoA III.
Your responsibilities as a moderator
- You enforce the rules
- You take responsibility for your assigned moderation area, read and respond to messages from players according to the moderation team standards
- You're the external representative for the team and when moderating you will be a moderator first and a player second;
- You provide the users with help and advice
- You play an active part in developing new ideas
- You moderate to the best of your ability and knowledge
- You help improve the team and the support we provide the players
How to apply
In order for us to get a better picture of you, we'd be more than happy to receive a short resume from you by e-mail including the following information:
Please be sure to include all requested information.
- What's your full First and Last name?
- How old are you?
- Where are you from (Country)?
- What languages do you speak?
- In general, what times are you usually online (please mark time zone)? - What exactly is your motivation to become a moderator?
- In a short text, describe yourself (everything that you can tell us about yourself so that we can get an idea of who you are).
- What is your knowledge of the Terms of Service?
- Which platform would you prefer to moderate on (Facebook, Discord or Forum)?
So, did we spark your interest? Are you the one we are looking for? Then apply now:
Send an email with the answers to the questions above to attached to this address:
modapp_en_leagueofangels3@customerservice-bigpoint.com
The application process is not a short process and may take up to two weeks to complete.
Confidentiality
Your application and content is confidential. Do not make any post or public announcement regarding your application, should you do so your application will be rejected. You will take an oath and sign a confidentiality agreement.
We look forward to receiving your application and hope to see you online soon!