HEADRECOMMENDS
Win New Outfit Amora's Gift in Valentine's Day!
Valentine's Day is coming to the Grace Continent! Don't you want to find some romance in
game
? The Valentine's Day event is already, check it out! From Feb. 10th to Feb. 16th, you can win new fancy outfit Amora's Gift and other amazing materials in
game
. Enjoy the holiday and explore more fun!
Event Duration: Feb. 10th to Feb. 15th
Entrance: Valentine's Day icon and Events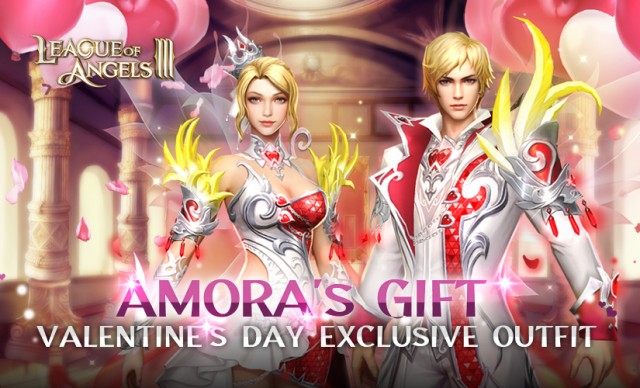 --Valentine's Day in Grace Continent
Guards stationed in Tempest Keep
are
forced to separate from their lovers and suffer their watch in cold and loneliness. However, Amora, the Angel of Love, can't bear to let these couples fall in love and then fall apart. Therefore, she made a request to her mother, the Angel of War, to give the soldiers a short rest to reunite with their loved ones.
The Angel of War was impressed by Amora's sincerity and agreed to name Amora's birthday as a rest day for lovers to reunite. Originally called "Lovers' Day", it gradually became the holiday that has been widely known as "Valentine's Day".
On Valentine's Day, people will cease battle with their enemies and wear a new outfit designed by Amora and pray for love and peace.
--Find love in Valentine's Day!
>> Obtain exclusive tokens
White Rose can
be get
via Topaz Recharge, Diamond consume, login and other ways. Use your White Rose and Topaz to spin the machine and you'll be able to win a ton of items and exclusive tokens like Teddy Bear and Sweet Chocolate, and even White Rose. The 2X, 5X rewards will
be come
out randomly if you are lucky enough!
>>Exchange New Outfit—Amora's Gift
Using Teddy Bear and Sweet Chocolate to exchange for gorgeous outfits like Amora's Gift, Lunar Blaze, Holiday Vestments and tons of special items at the shop. Once the outfits are permanently activated and certain requirements are met, you can also obtain Teddy Bear besides spinning the machine.
We wish all players enjoy the Angel's Carnival and explore more ways to play League of Angels III!
Note
Please
note
that the above content might be adjusted due to changes in the development plan. Final updates will be determined in-game.