HEADRECOMMENDS
Angel's Got Talent: Submit Your Quiz for Castle Raiders!
Left with nothing to do after defeating the opponents and clearing all the stages in Castle Raiders? Then let's have some fun!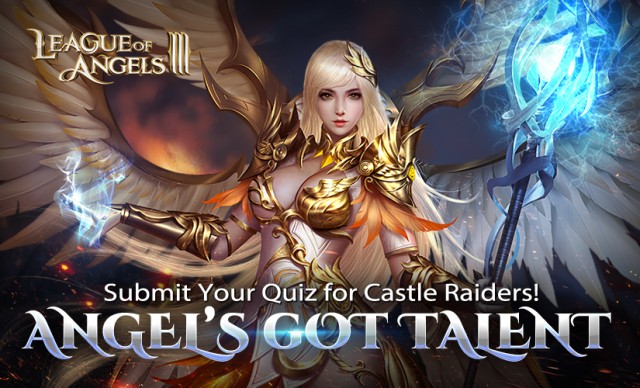 In the upcoming update, players will encounter a wise and generous NPC in Castle Raiders who will require players to answer a few multiple choice questions. Players will receive a reward as long as they submit their answer, and will DOUBLE their rewards when they get the CORRECT answer!
Starting from now, the first Angel's Got Talent quiz is open!

The NPC is now seeking to COLLECT 100 QUESTIONS for the angels' quiz bank. If your question is selected, the IGN and Server of the player who provided the question will be shown in the quiz panel where everyone will get to know the celebrity.
From background stories and hero skills to features, systems, and events, any question that is RELATED TO LoA3 will be taken into consideration. The main requirement is that you only submit multiple choice questions and the content isn't too long for the event panel to correctly display.
All players are welcome to submit their questions and answers through the google form. It's likely that you run into the question that you yourself wanted to ask!
Let your ideas flow!
Event Duration:
0:00 A.M. December 6th, 2018 – 0:00 A.M. December 10th, 2018(EST)
How to participate:
Submit your question and answer, as well as your IGN and Server information in the google form.
Click>> https://goo.gl/forms/0aeZQHjwrFsJlQGK2
Example of the question and its answer:
Question: Where do players obtain sketches to craft Creation Equipment?
Answer A: Castle Raiders
Answer B: Mine Wars
Answer C: Elite Tree of Origin
Answer D: Guild War
The Correct answer is: C.
Rules:
1) Your questions should be less than 80 characters, and the choices less than 20 characters.
2) Multiple choice questions only. Four choices only.
3) Questions should be related to LoA3.
4) Be sure to leave the CORRECT IGN & Server so your information is perfectly displayed in game.
5) Please submit your question to the google form. Replies to this thread in the forum don't count.
Note:
Spam/illegal content will lead to EVENT DISQUALIFICATION. We reserve the right to final interpretation of this event & rewards.