HEADRECOMMENDS
The 2nd Best Strategy Contest: Share Your Opinion!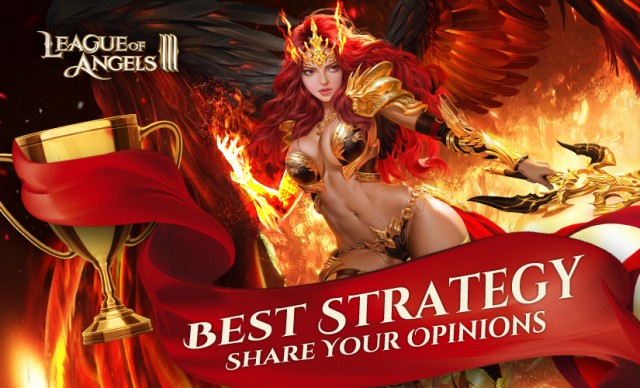 Salute warriors!
It's been a month since the official release of League of Angels III, and a lot of features and events have been added. Did you make it to the Round of 16 or did you win the Wings of Blood in the thrilling Hero League? Was your guild crowned champion in Guild War? How many points have you collected in Castle Raiders? What's your special formation to make it to the final stage of Tree of Origin and Realm? How to achieve the 14-day goals and level up in a short time? We are eager to read your strategy!
Let's start the 2nd Best Strategy Contest! >>http://community.gtarcade.com/thread/1317317-1-1.html
All players are welcome to share your strategy and get a chance to win awesome rewards including the title "Strategy Master"! The quality strategy will also be posted in "Strategy" section in the official site and LoA3's YouTube Channel (if it's a video) where all players could see.

The talented players will have a chance to be selected as a member of the LoA III Creative Team to receive weekly rewards for regular outputs.
As long as you have unique opinions about League of Angels III, and are willing to help others, this will be the perfect place for you! Join us and share your strategy now!
Event Time:
8:00 A.M. September 11th 2018 – 8:00 P.M. September 25th 2018 (EST)
Topics you can share your strategy on:
A. Formation/Squad: On heroes' skills, attributes, skills, and formation suggestion;
B. Gameplay (features): On different gameplay in game, i.e. Hero League, Guild War, Wailing Gate, Castle Raiders, Tree of Origin, Realm, Conquest, Mine Wars, Arena, World Boss, Guild Boss, etc.
C.

Resources:

On how to obtain different resources in an efficient way, and how to make full use of them.
D. Miscellaneous: For example, on how to level up in a short time, how to clear the stages with full stars, how to dominate, etc.
E. Unlimited: Let your imagination run riot. Any strategy related to the game is acceptable, except the illegal ones.