EVENTS
Come and get Angel's Carnival limited Wing: Vivian's Flower
Come and get Angel's Carnival limited Wing: Vivian's Flower


A gorgeous new pair of wings are waiting to join your collection! The Wings of Vivian's Flower is the Angel's Carnival exclusive item that can be obtained in Angel's Carnival party from April 9th to April 13th. Collect Djembe and Maracas to exchange them for Wings of Vivian's Flower! Don't miss your chance to get these vibrant wings and come to join our party with your friends!


Event Time: April 9th to April 13th
Entrance: Click "Vivian's Flower"

Vivian's Flower
Vivian's Flower, a brand new pair of wings is coming at Angels Carnival! Made by shinning flower, Vivian's Flower is the symbol of spring and lucky. Once you unlock Vivian's Flower, it could bring you over 80K BR and a perfect new look to match up your hero's Outfits. Don't miss the chance to unlock the party exclusive items before the event ends!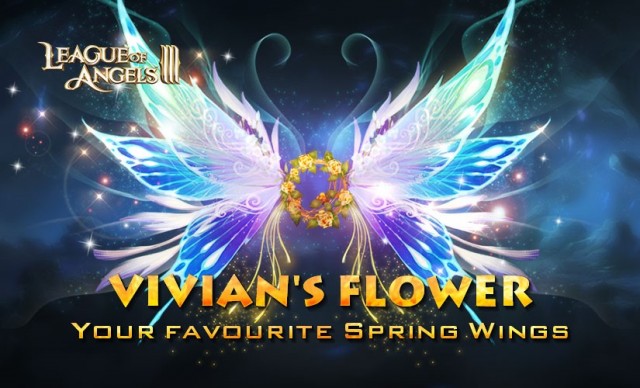 Carnival Party: Vivian's Flower collection
During the event, players can exchange for the latest wings by meeting the certain requirements!
>>How to get Vivian's Flower
1.
You could directly purchase Vivian's Flower Sigil (permanent) in Event.
2.
When you meet some certain requirements, you could purchase Vivian's Flower Sigil (permanent) with great discounts!
>>Good news for VIP0 players: Login for 5 days, you could get Djembe, Vivian's Flower Sigil (3 days) and other rewards for totally FREE!
>> You could increase your BR over 80K by unlock Vivian's Flower and grant massive bonus HP (+36K), ATK (+10K), DEF (+7K).
>> During the party time, you could use Brilliant Feather or Topaz to spin the machine and win the extra Diamonds and Djembe.
>> Moreover, using Prize x5 will automatically multiple all prizes by x5 (you can earn x25 prizes if you also get x5 in the last column)!
Note:
Please note that the above content might be adjusted due to changes in the development plan. Final updates will be determined in-game.