EVENTS
X-Server Angel's Fortune: Be stronger by equipping Dawn and Dusk
New Mythic Divine Arma set Dawn and Dusk are now available in X-Server Angel's Fortune to enhance your power from March 22nd to March 24th. The brilliant set Divine Arma Dawn and Dusk is good at both attacking and defending. It can reduce rage while taunting enemies with additional damage in battle.
Unlock the Divine Arma sweet to get the exclusive Mythic power and strike terror into your enemies!
Event Time: Mar. 22nd – Mar. 24th (server time)
Server: Cross server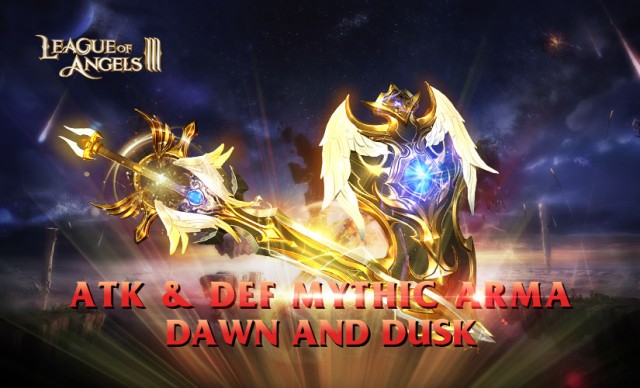 Dawn and Dusk
Victoria is the Guardian of Dawn and Dusk. Owning this hero will release the full power of the Divine Arma: attributes +20%. Besides, its type decides means that all Relics can benefit your main character.
Dawn and Dusk own 3 special skills: Sunrise, Call of Dawn and Sartos' Warcry.
>>Sunrise
Randomly reducing target's rage to prevent the release of its ultimate skill.
Sweeps away the darkness to usher in the sun for the Angels. Attacks an enemy and deals (ATK*140%+400) damage with a 70% chance to reduce the target's rage by 10.
>>Call of Dawn
Taunting enemies in the front row and converting damage taken to HP at the same time.
Paves the way to dawn for the Angels. Attacks all front row enemies and deals (ATK*120%+600) damage. It also has a 30% chance to taunt 3 of the targets for 1 round and gains a blessing that converts 50% of the damage taken to HP (does not exceed 50% of max HP. Effects last 2 rounds.
Deals 30% more damage to taunted targets. Increase the chance to taunt by 10% to targets that have less HP than the hero.
>> Sartos' Warcry
Dealing damage as well as protecting allies. Taking damage taken by the ally when unlocking Empower Lv. 8.
Long live the Angels! Attacks all enemies and deals (ATK*120%+600) damage. Taunted targets take 120% more damage. It also grants a shield that absorbs 20% of the main character's max HP to 3 allies with the lowest HP for 2 rounds.
Links up with the ally that has the lowest HP and takes 40% of the damage taken by the ally (except for hen the damage is lethal) for 3 rounds. It also gains an effect that reflects 30% of damage taken (but no more than 60% of the hero's HP). Reflect effect lasts for 2 rounds.
Angel's Fortune
>>What's New
--Added PLAY x N button.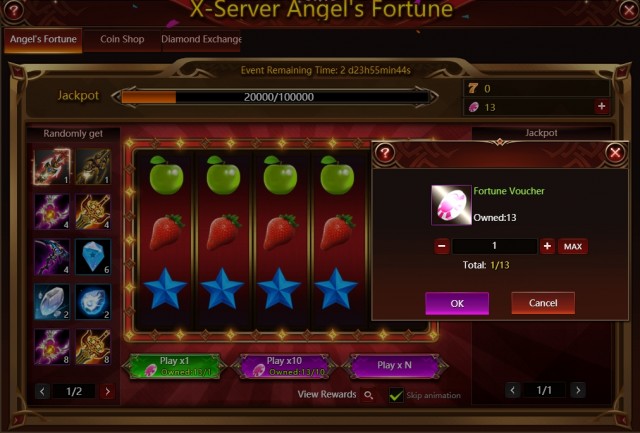 --Added Dawn and Dusk Sigil and Dragonbane Sigil in reward.
--Added Dawn and Dusk Sigil and Meteor Stone III in Diamond Exchange.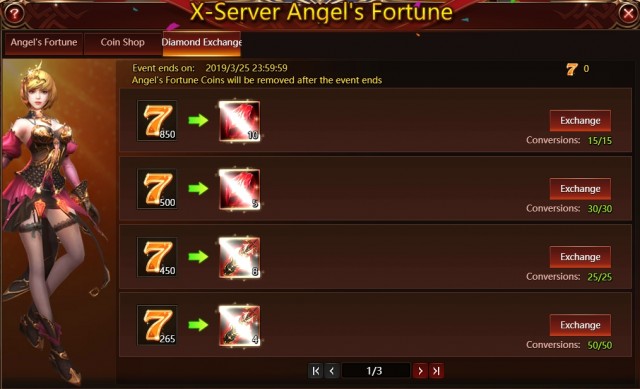 --Added Domain Crystal V in Coin Shop – Empower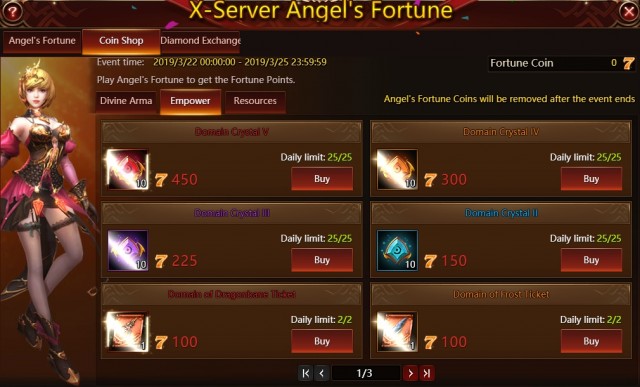 >>Rules:
1.
Players can play the lucky bar by consuming Fortune Vouchers which can be bought with Diamond, Fortune Coin, Topaz or Gold Leaf in game. Each play will get random rewards;
2.
Players can claim 3 FREE Fortune Vouchers each day. Free claim will be reset at 12 A.M. every day;
3.
Each play will grant Fortune Coins which can accumulate the Jackpot Prize Pool;
4.
Players can use Fortune Coins to buy rare materials such as Meteor Shard II and Shadowfrost Sigil, and other items;
5.
Fortune Coins can exchange Dragonbane Sigil and diamonds;
6.
Accumulate required recharge amount during event time to claim a series of great rewards such as Divine Arma Sigil;
7.
Consuming times in Coin Shop will be reset daily. Attempts in Diamond Exchange will not be reset during the event. Angel's Fortune Coins will be removed after the event ends.
>>Rewards:
1.
Different levels of prizes given when 5 of the same symbols listed below appear;
2.
Rewards such as Dawn and Dusk Sigil and Dragonbane Sigil and others can be randomly got when you greatly play the game.
3.
Jackpot Prize will be given when 5 of the lucky "7" symbol appears in the middle row. Jackpot Prize consists of the Coin reward listed below plus the entire Jackpot Prize pool.
Note:
Please note that the above contents might be adjusted due to changes in the development plan. Final updates will be determined in game.