EVENTS
Featured Hero: Athena - Powerful Damage reduction & rage recovery
Symbolizing the integrity of the Angels, Athena - the Mythic Support Hero was created by Asherah by Rite of Azjora. Her duty is to protect the rules of Angels and maintain order.
Athena performs powerful Support ability in battle. She can reduce damage taken by allies and recover rage. Not to mention that her special skill grants immunity from effect for allies.
Athena will be available in event Featured Hero starting from Mar. 15th to Mar. 18th. This is the first chance to obtain the Mythic hero and also the best chance to get her with a great discount!
Event Time: Mar. 15th -- Mar. 18th (server time)
Entry: Click "Featured Hero" icon in the game interface.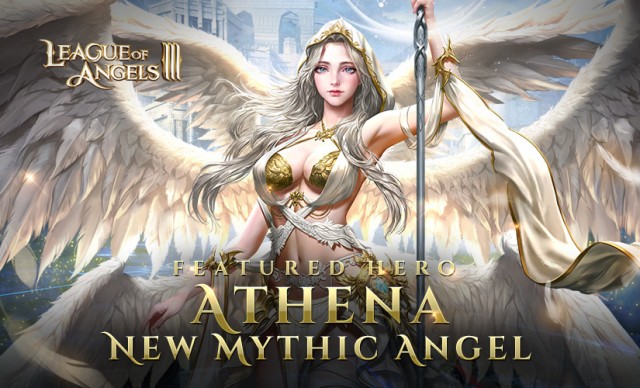 What makes Athena the most powerful Support?
>>Athena's normal skill Divine Honor can directly grant rage to an ally without considering about the upper rage limitation.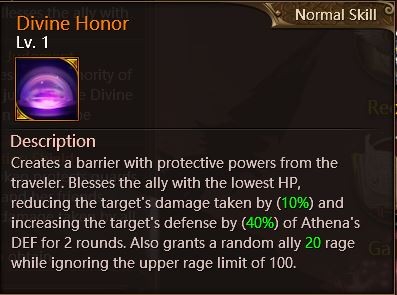 >>Athena has a powerful PASSIVE skill Dignified Judgement. The skill can reduce damage taken by ALL allies with a certain degree and increases damage dealt by BACK row allies.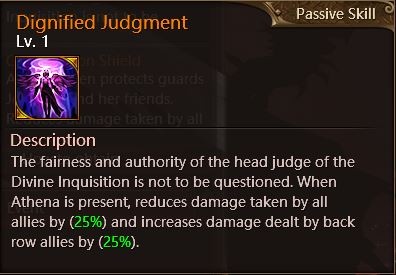 >>When Athena releasing her SPECIAL skill Constellation Shield, the damage taken by the front ally hero will grant rage to the back row. Besides, when Empower reaching Lv. 3, the special skill can provide immunity to control effect for back allies once. And if Empower to Lv. 7, back allies will increase rage at the same time except for the main character.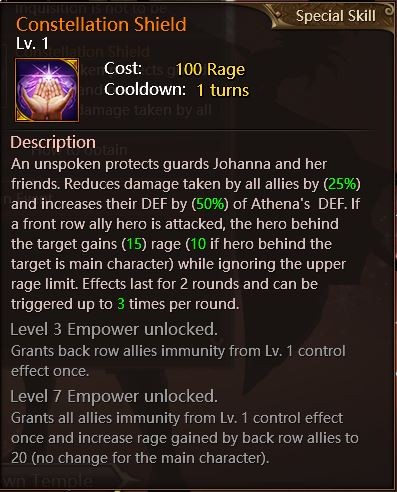 What's should be noticed is, we adjusted Mythic Hero Empower level since version 4.3.0. Compared to other heroes, Mythic Hero can unlock Empower skill with a lower level of satisfaction. Which means Mythic Heroes are able to release Empower Skill quicker.
Event rules
1. There is one Theme Hero for each "Featured Hero" event. Players will have the chance to obtain the Athena Hero Shards and the Theme Hero during the event, as well as other heroes and their shards.
2. Players can draw 1 time FOR FREE every day. Draw times will reset at midnight every day.
3. Each draw will grant 10 points. The accumulated points can be used to open Points Chests which contain the Athena Hero Shards.
4. First Drawing x1 using Diamonds each day will get half price off.
5. Drawing 5 times will guarantee Theme Hero Shards, i.e. Athena shards.
6. The points will be reset after each event.
Hero Cultivation Guaranteed
Obtain Athena is not the end. This time, we provided discount cultivation pack for you to empower Athena directly to a powerful level!
1.
During the event, you can redeem Athena Augment DISCOUNT pack when meeting requirements.
2.
During the event, you can claim Athena upgrade materials when meeting required recruit times or unlock Athena.
3. Athena Directly Empower to Lv. 7 Discount pack is available to players who will obtain Athena or empower her to Lv. 3 /5 during the event.
Note
Please note that the above content might be adjusted due to changes in the development plan. Final updates will be determined in-game.
RELATED