EVENTS
Holiday Exclusive Outfit – Song of Life
It's time to collect Clovers and earn some good fortune for Rebirth Day from Mar. 14th to Mar. 18th! During this important time on the Divine Continent, a new exclusive holiday outfit – Song of Life, will be available along with many other amazing rewards! Please come join us for the celebration of Rebirth Day!
Event Time: Mar. 14th to Mar. 18th
Entrance: Rebirth Day icon and Events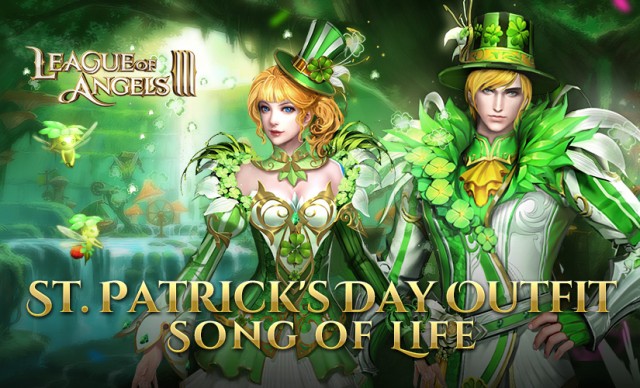 Let's celebrate Rebirth Day in LoA3!
Rebirth Day is a very important holiday to the residents of the Divine Continent.
According to legend, during the Abyssal Invasion, the Angels halted the evil plans of the Abyssal Alliance when Asherah sealed their leaders within the Tree of Origin. During the sealing process, Tree of Origin healed the land with a miraculous power of rebirth. To commemorate the rebirth of the continent and Asherah's sacrifice, the people wear green costumes and hold feasts in celebration each year on this day.
Fantastic Fun Events
>> Spin the wheel and earn exclusive holiday rewards
Use your Beer Mug Ticket or Topaz and spin the machine to win tons of rewards and exclusive tokens like Clover and Top Hat, and even more Tickets. Will fortune smile upon you as you nab all the rewards in the Prize Pool? Plenty of rare Hero Cultivation materials such as Holy Crystals, Augment Stones, Small Stellars and Blessing of the Angels and tokens are waiting for you in the prize pool!
>>Win the New Outfit—Song of Life
The popular "Song of Life" is a traditional holiday garment. The outfit features a refreshing green and yellow color scheme, decorated with the elements of nature like leaves, clovers and vines to represent vitality and the power of life.
This new outfit can raise your BR by 52440 when you unlock both the head and body pieces. The Song of Life provides HP, ATK and DEF attribute bonuses for all your deployed units. All players can earn Song of Life Head and Body (3 days) and other rewards just by logging in every day during the event. You can obtain the complete outfit with a saving price in Events-Rebirth Day bookmark when you meet certain requirements.
In addition, if you did not have the chance to unlock previous holiday outfits, you will have the opportunity to redeem Head and Body Sigils during this event with tokens at a great discount.
Note
Please note that the above content might be adjusted due to changes in the development plan. Final updates will be determined in-game.