EVENTS
Theresa's Summoner
Theresa's coming back in event Theresa's Summoner! If you didn't get Theresa, the single-target Burst Damage Hero in last time's Featured Hero event, please seize the chance this time. From Feb. 18th to Feb. 20th, recruit Theresa, accelerate Lucky Value and claim rewards from Chest!
Event Time: Feb. 18th to Feb. 20th
Where: Theresa's Summoner in Recruit.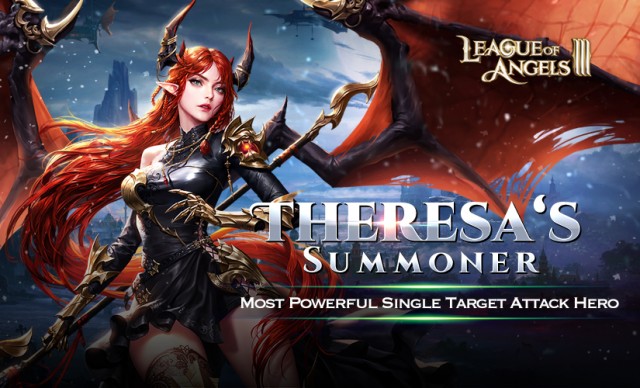 Add Theresa in your Formation
Theresa, the Angel of Dragons is the single-target Burst Damage ATK Hero in game so far. She can hit enemies with the highest ATK with devastating skills: Dragonbane, Piercing Gale and Dragon's Dance. If you already win Her guardian Arma Dragonbane in X-Server Angle's Fortune, the great combo can increase 20% attributes.
The best way to get & enhance Theresa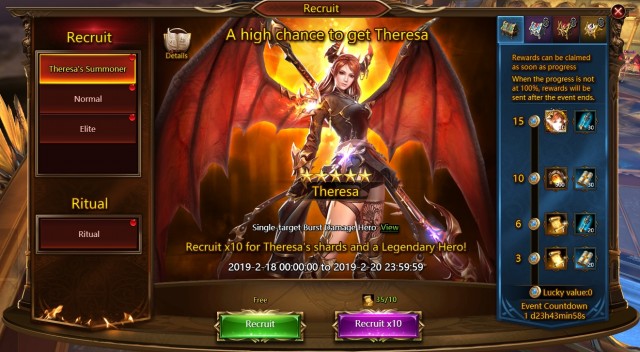 Best Chance than ever
In Theresa's Summoner, recruiting Theresa with Recruitment Scroll II which can be obtained via Guild shop, VIP Store and Operation Event. By recruiting the hero, you can get Lucky Value which can be used to open Chest and claim rewards.
Numerous Great Rewards
The more Lucky Value you accelerate, the more advanced Chest you can open which includes rewards such as Theresa Shards, Legendary Soul, Soul Flask II, EXP Scroll II, Recruitment Scroll II and Small Stellar Stone in different numbers.
Total Recharge for Theresa
Accumulate required recharge amount during event time claim a series of great rewards such as Theresa Shards and Hero Resource Coupon.
Grand Deal
During the event, you can exchange for Legendary+ Hero shards by meeting certain requirements. Using Hero Resource Coupon, Diamond and Topaz to exchange Theresa/ Isolde /Wendy Shards
Note
Please note that the above content might be adjusted due to changes in the development plan. Final updates will be determined in-game.
RELATED