EVENTS
Win Dragonbane in X-Server Angel's Fortune!
Finally
it comes! The New Divine Arma, guarded by Theresa -- Dragonbane is now available in X-Server Angel's Fortune!
From 15th to 17th in February, enjoy 3 days' lottery event and win fantastic rewards. Ready or not, the fun is coming!
Event Time: Feb. 15th – Feb. 17th (server time)
Server: Cross server
Dragonbane
>>Story
Black flames fall from the sky.
The remains of the Elder Dragon collapse.
The spear named Dragonbane.
Still stands strong.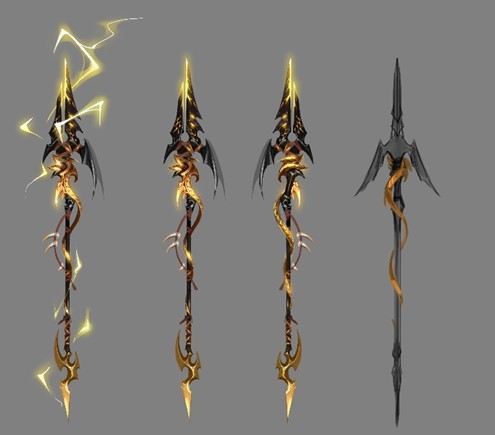 Tabitha never would have been able to resurrect Balerius if Theresa hadn't broken the seal by mistake. Filled with guilt, Theresa asked Wendy how to kill Balerius, and according to a sacred tome, Wendy found that weapons made using the Melting Star method is deadly to the heart of a dragon.

As Theresa and Wendy asked Aurora for more details, Aurora explained that the Dragonbane Theresa held was the one she made years ago using the Melting Star method. A regular Melting Star weapon, however, will be no match for Balerius. Dragonbane won't be enough for you to take down the dragon. Said she to go cover your lance in dragon blood and then bring it back, and she will enhance it fpr a fighting chance against Balerius.

Theresa had the Dragonbane since she was a child. All this time she had no idea of the history behind it. For Theresa, Dragonbane will always remain her most treasured weapon as her only keepsake from her mother. Theresa ardently hopes that with Aurora's enhancement she will be able to defeat Pavara once and for all.

>>Info & Skills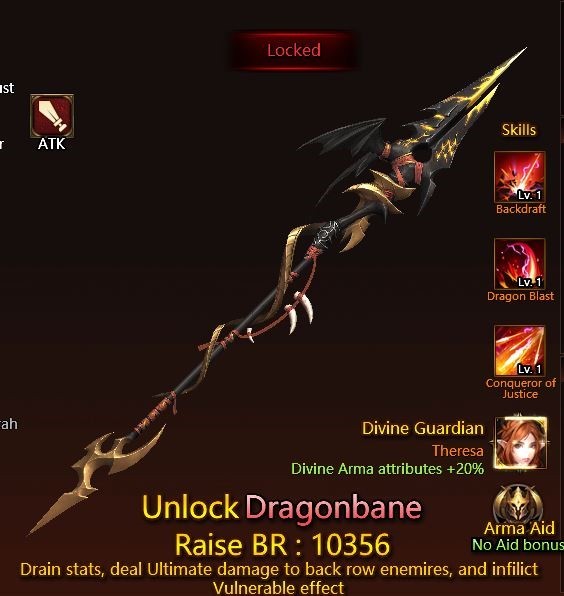 1. Backdraft (Cost: 35 Rage; Cooldown: 3 turns)
Pierce an enemy to deal (ATK*120%+250) damage, also prevent
healing,
and reduce the target's Crit Hit by 20% (cannot exceed 30% of your max Crit Hit) while increasing your own Crit Hit by the same amount for 2 turns. This effect does not stack.
2.
Dragon Blast (Cost: 40 Rage; Cooldown: 3 turns)
Control the power of the Dragons to deal (ATK*120%+150) damage to a column of enemies and reduce the ATK of a random target by 5% (cannot exceed 10% of your max ATK) while increasing your own ATK by the same amount for 2 turns. This effect does not stack.
Drain
5% ATK from the enemy with the highest ATK (always hits).
3.
Conqueror of Justice (Cost: 50 Rage; Cooldown: 3 turns)
The Angels cannot be
defiled
by the blood of the Dragons. Deals (ATK*100%+200) damage to front row enemies. Crits will apply a Weaken curse, causing their damage taken to increase by 10%. Lasts 2 rounds.
Using
the Ultimate skill for the first time in a battle will always Crit. Vulnerable effect increased by 20%.
Angel's Fortune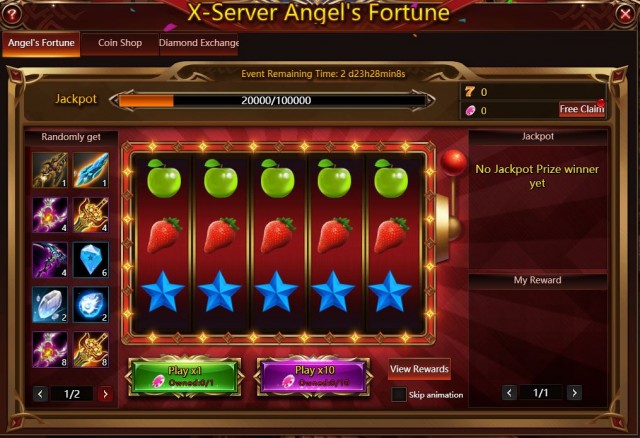 >>Rules:
1.
Players can play the lucky bar by consuming Fortune Vouchers which can be bought with Diamond, Fortune Coin, Topaz or Gold Leaf in game. Each play will get random rewards;
2.
Players can claim 3 FREE Fortune Vouchers each day.
Free
claim will be reset at 12 A.M. every day;
3.
Each play will grant Fortune Coins which can accumulate the Jackpot Prize Pool;
4.
Players can use Fortune Coins to buy rare materials such as Meteor Shard II and Shadowfrost Sigil, and other items;
5.
Fortune Coins can exchange Dragonbane Sigil and diamonds;
6.
Accumulate required recharge amount during event time to claim a series of great rewards such as Divine Arma Sigil;
7.
Exchange attempts will not be reset during the event. Angel's Fortune Coins will be removed after the event ends.
>>Rewards:
1.
Different levels of prizes given when 5 of the same symbols listed below appear;
2.
Rewards such as Dragonbane Sigil and Shadowfrost Sigil and others can be randomly got when you greatly play the game.
3.
Jackpot Prize will be given when 5 of the lucky "7" symbol appears in the middle row. Jackpot Prize consists of the Coin reward listed below plus the entire Jackpot Prize pool.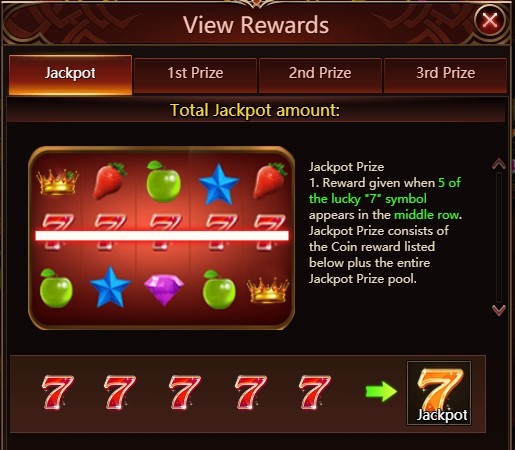 Note:
Please
note that the above contents might be adjusted due to changes in the development plan. Final updates will be determined in
game
.