EVENTS
Get fortune in Angel's Lucky Diamonds
What's the best way to accelerate your diamond pocket? Just participate in the Angel's Lucky Diamonds Event! From Feb 9th to Feb 11st, consume your diamonds in the event and get MORE diamonds BACK! Best chance than ever, please don't miss!
Event Duration: Feb 9th - Feb 11st
Event Entrance: Click Angel's Lucky Diamonds icon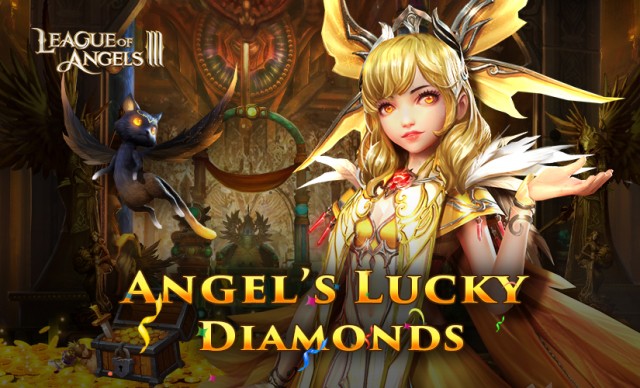 Rules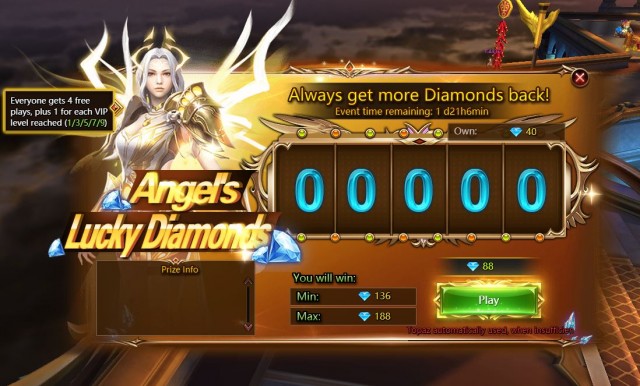 1.
You need to have some diamonds to attend the event. The minimum diamond number is 88.
2.
You will always get more diamonds back in this event. The number of diamonds you can obtain will change in a range, but definitely more than what you consumed. For example, when you spend 88 diamonds, you can win the number of diamonds from Min 136 to Max 188, the exact number depends on your luck.
3.
Everyone gets 4 FREE plays, plus 1 for each VIP level reached (1/3/5/7/9). Which means when you are VIP0, you also have 4 chances to press PLAY; but if you are VIP1, you can have 5 times to play.
4. The more you spend, the more you earn.

Note:
Please note that the above content might be adjusted due to changes in the development plan. Final updates will be determined in-game.