EVENTS
Attend the Christmas Party Began in League of Angels III!
Christmas costume, Sleigh and Reindeer, the festival's started! All players of
League of Angels III
are welcomed to participate in the annual winter festival of Grace Continent held by the gracious angels throughout December.
From December 21st to December 25th
, dress up new costume, drive a sleigh and put on the Christmas hat, let's get the Christmas party began!
Events time: Dec 21st to Dec 25th (sever time)
Try Your Luck in Christmas Joy and Lucky Christmas
Christmas is coming, Play hard and win big! Starting since December 21st, the 5-day-only events period is crowded with players who desire to try their luck and get amazing rewards! Entering Elite Dungeons through Christmas Joy and challenging then you may have the chance to collect small gift box and exchange abundant rewards in the shop. Spinning the lucky bar in Lucky Christmas by using Christmas socks and receiving extra prizes like x2, x5 prize multipliers, Diamonds and Large Gift if you are lucky enough.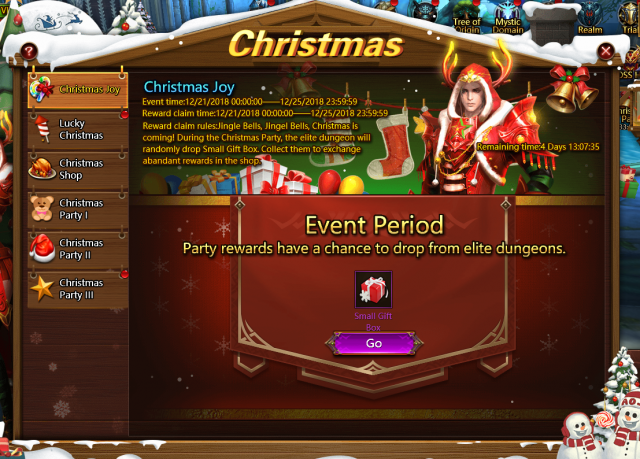 Christmas Party & Shop
Players can claim different rewards when satisfy the requirements, such as recharge Topaz, consume diamond or Topaz and complete challenges. Attempts will be reset at 00:00 (sever time). Players can exchange Large and Small Gift Box in Christmas Shop to get latest items and resources from Dec 21st to Dec 26th (sever time). Enjoy the game and good Luck!