EVENTS
Play Hard, Win Big: Showing off Your Thanksgiving Chests!
Looking for things to do during the Thanksgiving week? Don't miss the fun events in LoA3 where you can win rewards every day!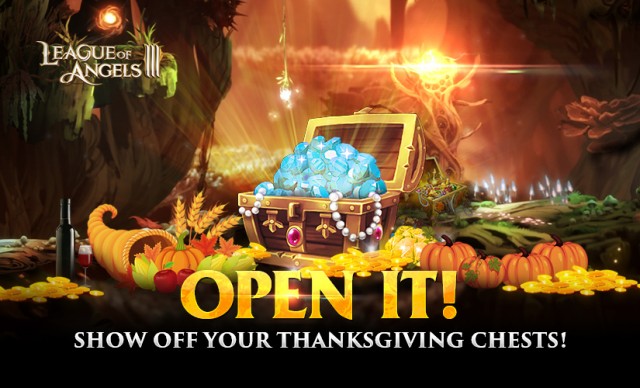 A special Thanksgiving event, where players are able to open Thanksgiving chests for rare resources and even chests, will be held in game from 19th to 25th November.
During the event, ALL players are welcome to share their screenshots of the resources and chests obtained through opening the Thanksgiving chests in bulk, and enter a chance to WIN AWESOME REWARDS!
Players can post their screenshots
EVERY DAY
during the event, and will BE REWARDED FOR THEIR PARTICIPATION. Plus,

the FIRST FIVE PLAYERS

who post the screenshots EVERY DAY will receive AN EXTRA REWARD

DOUBLING THE PARTICIPATION REWARD

. In addition, a ranking will be listed based on the amount of CHESTS in ONE screenshot when the event ends. The TOP TEN participants with the MOST CHESTS IN ONE SCREENSHOT will have a chance up to win 5, 000 DIAMONDS!
Get to know the rules during the warming up period and keep an eye on our official fan page and Discord channel for all the latest news and fun events. Act now, warriors!
JOIN NOW>>https://community.gtarcade.com/thread/1320605-1-1.html

Warming up:
0:00 A.M. November 17th 2018 – 0 A.M. November 18th 2018 (EST)
Event Duration:
0:00 A.M. November 19th 2018 – 0 A.M. November 25th 2018(EST)
How to participate:
Step 1: Take a screenshot of your opening chests.
Step 2: Upload your screenshot under the thread, with your in-game name, server and the description of the chests that you obtain.
Example:
IGN & Server: Mikaelam (S1)
Description: Medium Pumpkin Chest x15
My screenshot: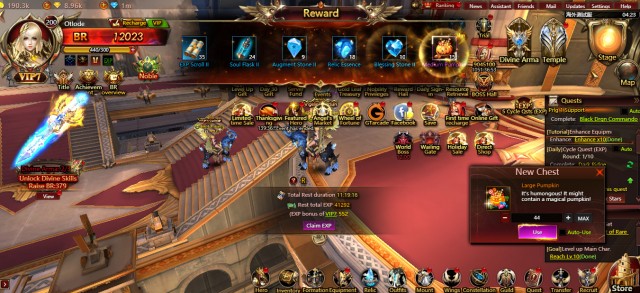 Rewards:
All participants will be rewarded. Try to upload a screenshot with MORE CHESTS in it to win the ultimate ranking rewards! And be sure to upload your picture EARLY every day to double your rewards. Check below for the rewards details:
- Ranking Rewards (Top 10 Winners):
Champion: Diamonds x5,000
Runner-up: Diamonds x3,500
Third Place: Diamonds x3,000
4th to 10th: Diamonds x1,500
- Top 5 Early Birds(5 each for each timezone
): Diamonds *300
- All Participants: Diamonds *150
Rules:
1) Please note that the ranking rewards go to the top 10 participants who have opened the most chests in one screenshot, not the ones whose chests in different screenshots add up to be the most.
2) Your screenshot should show clearly the amount of the chests opened; or you can add a description if it fails to show correctly.
3) Your picture should be original. The pictures will be CHECKED by our mods and devs together.
4) Be sure to include your IGN & Server so that rewards can be well received.
Note:
1. The top 5 early birds will receive the rewards the day after their winning. All the other rewards will be sent via in-game mail in 3-5 working days after the event ends.
2. Check this strategy by a keen mod of our sister game LoA1 >>http://community.gtarcade.com/thread/1299015-1-1.html if you have problems uploading a picture.
3. Spam/illegal Content will lead to EVENT DISQUALIFICATION. We reserve the right to final interpretation of this event & rewards.