EVENTS
Win Fabulous Outfits in Wheel of Fortune!

Great news, warriors! Angel Inanna brings you a brand new event –Wheel of Fortune in the latest version of League of Angels III. Grace Continent, the land which angels will guard with their lives, is full of lost treasures. Spin the wheel and obtain a ton of resources and materials to forge a elite squad of yours. Plus, a fabulous outfit—Frozen Arma can also be obtainable. Read on to find out more details!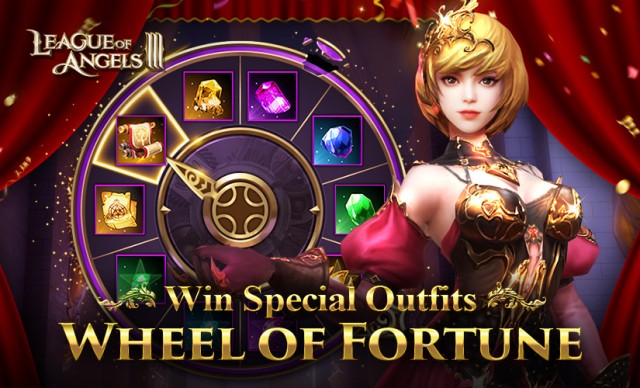 Server:
S1 to S9
Duration:
July 20th to July 22nd (server time)
Entry:
Click the "Wheel of Fortune" icon in the game interface to participate.
The Wheel of Fortune event is divided into a Normal mode and an Elite mode. The Normal mode requires Lottery Tickets whereas the Elite mode needs Topaz to draw prizes.
Test Your Luck in Normal Mode and Elite Mode

Normal mode:

Spend 1 WoF Lottery Ticket to draw once. If you have more than 10 Lotto Tickets, you can choose Draw x10 mode. In addition to prizes, each spin grant you 4 points and 4 Lucky Coins. Lucky Coins can be used to buy hot items in the Lucky Store, including the gorgeous "Frozen Armor Sigil--head".
Elite mode: Spend 100 Topaz to draw once. "Draw x10" is also available in Elite mode. Each draw will earn you 10 points and 10 Lucky Coins, as well as the prizes.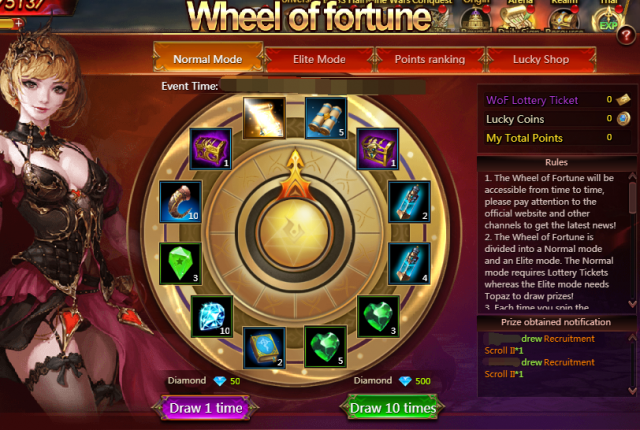 *PIC Wheel of Fortune Interface*
Check out Points Ranking and Lucky Shop

Wheel of Fortune points can be used to participate in the Wheel of Fortune Leader board competition, i.e. points ranking.

All the ranking rewards will be sent via in-game mail after the event ends.
The top 1 player in overall ranking in Wheel of Fortune will have the honor to take the outfit Frozen Armor, both "Frozen Armor Sigil--head" and "Frozen Armor Sigil-body", as well as rare materials that can be used to advance heroes, mounts, wings and Divine Armas. Players who rank 2nd and 3rd will obtain the "Frozen Armor--body", and can redeem for "Frozen Armor--head" in Lucky Shop by using Lucky Coins. Apart from the Frozen Armor sigil, hero shards, EXP Scrolls, Component Chests and many hot items are also available in Lucky Shop. Make full use of Lucky Coins to get what you want!
Friendly reminder:
Lottery tickets, Lucky Coins and Wheel of Fortune points are ONLY valid per event and will be cleared after each event.
Be sure to use up your Lottery Tickets and Lucky Coins each event!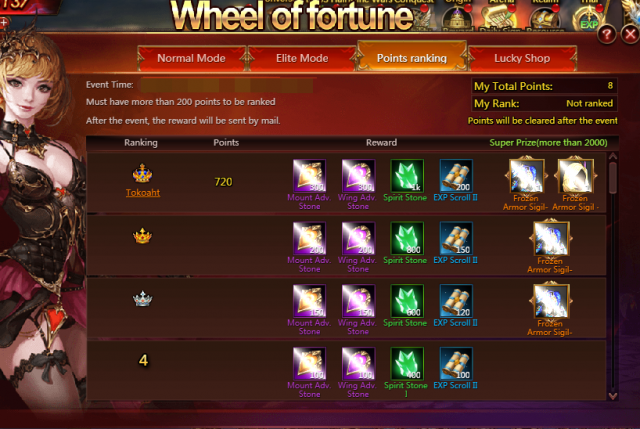 *PIC Wheel of Fortune Points Ranking*
Dress up Fabulous Outfits--Frozen Armor

Frozen Armor is newly added in game especially for the Wheel of Fortune event and can only be obtained through the event. This outfit, with the royal blue collar and sapphire armor boots, manages to combine practicality with elegance. Not only has the appearance of the outfit stood out, but also the BR and bonus stats that it adds for all deployed units excel others. Spin the wheel and rank as high as you can to get this outfit!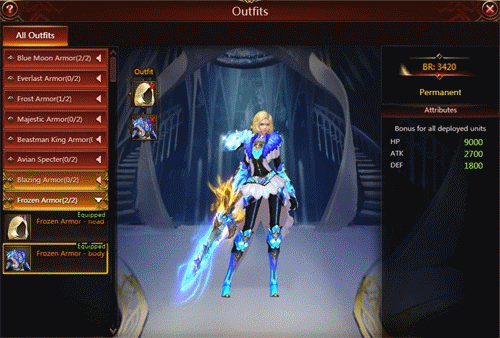 Can't wait to dress up the special Frozen Armor? Don't forget to check out Wheel of Fortune from July 20th to July 22nd! All players can now play League of Angels III on Gtarcade and Facebook platform, or download Gtarcade Desktop APP. Choose a role and join us in the grand battle against evil dragons!